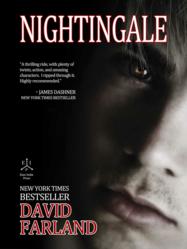 Each of these books shows a new way of reading by applying technology to make the books more engaging.
St. George, Ut. (PRWEB) November 26, 2011
David Farland, co-founder of East India Press, a publisher specializing in e-books and enhanced novels claims, "Few people realize that the new "enhanced book" technology has not only left e-books in the dust, but has opened up new ways to read, providing deeper entertainment and education." He recommends these five revolutionary books. Each use emerging technology in a unique way. All in time for Christmas.
The Professional Chef by the Culinary Institute of America
This is so much more than giving a cookbook for Christmas. This is like giving someone an online culinary-arts school in a book. How often has someone read a cookbook that called for the use of a tool they never heard of? This book has not only pictures of the tools, and the ingredients, but videos on how to use them. Click on part of a picture and it will open up new pictures, videos or recipes and tips about that item. Take notes and link up with students of the institute to read their notes. Not to mention all the videos of instructors demonstrating gourmet cooking tricks.
Available through iTunes, for the iPad only, $49.99.
Nightingale by David Farland
This fantasy novel by an award-winning New York Times bestseller is a great read for old and young, and destined to be a classic, whether read as a hardbound book, an e-book, enhanced novel or an audio book. But in its enhanced edition, it draws from its exceptional 45-minute sound track, and art and animation from six different artists to set the mood of the coming chapter. The reader can step behind the scenes, and view the book in landscape mode and see video interviews with the author and his notes. This is an example of many different kinds of highly skilled artists teaming to create a single work of art: writers, illustrators, composers, musicians, computer animators and more. It truly creates a new reading experience, not passive like television, but even more interactive and engaging than reading. The publishers went the extra mile and created a computer app, so the enhanced novel can be read from any computer with an internet connection. So there's no need to buy an iPad for Christmas.
Available from Amazon, iTunes, and others. Free preview and all editions, including the special computer web edition available at http://www.nightingalenovel.com, $9.99.
Jacqueline Kennedy by Caroline Kennedy and Michael Beschloss
No one's read a biography like this. The book is centered around 8.5 hours of interviews with Jacqueline, which can be listened to at the beginning of each chapter. It's filled with pictures of the Kennedy family, the complete transcripts of the interviews and author's annotations about the political climate of the time. It also contains video at the beginning of each chapter. This book sets a new standard for biographies to match with not only audio, visual and text, not just a story, but also the ability to include absolute proof of events. It will make a great Christmas gift for the non-fiction reader.
Available through iTunes, Amazon and others, $19.99.
The Fantastic Flying Books of Mr. Morris Lessmore by William Joyce
This children's book was produced by a studio rather than a publisher, a major distinction that really shows. It's loaded with stunning graphics which are highly interactive and fun. Children will enjoy playing with it over and over as much as they'll enjoy reading it. William Joyce "created" it, and he is an illustrator and animator with experience from Pixar, Dreamworks and Disney. The "tornado page" blows everyone away. As children read this repeatedly, they can read it with the voice on or off, with or without being interactive, with sound effects and music or without. So they can re-experience it on many levels. Moonbot studios claims it's the "reinvention of digital storytelling," but digital is such an understatement for this work of art and "funtasy." This is not a Christmas gift that will end up forgotten after holidays.
Available through iTunes, only $4.99.
Flipped by Wendelin Van Draanen
Another great Christmas gift for children, this is a great example of what comes of taking an excellent book, making an award winning movie of it, then use the book and the movie to make an enhanced book. It contains footage from the movie, plus some original songs to enhance the novel. Then it contains all the things one might expect on a DVD of the movie, with videos of the making of the movie, behind the scenes clips, interviews with the director, the cast, and the author. It seems that in the future every movie may be recombined with the book to make an enhanced novel like this. Again, it sets a standard. There will be no more discussion about which was better, the book or the movie, it will be hand-down the enhanced novel.
Available from iTunes, Amazon and others $8.99.
Each of these books shows a new way of reading by applying technology to make the books more engaging. Each of them sets a new standard for "books." And each of them would make a wonderful Christmas present.
David Farland is a New York Times bestselling Author of over fifty novels. Formerly a writing professor at Brigham Young University, he has also worked as an editor, movie producer and top game designer. He was uniquely talented to start East India Press, a publishing company specialing in the new technology of enhanced novels. He has just released, Nightingale, his own enhanced novel.
###