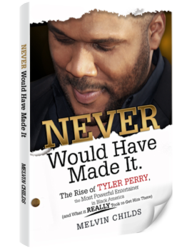 This is a behind-the-scenes look at how Tyler Perry became Tyler Perry...These are things I saw, things I did and conversations I had. Everything I am about to say happened. I know it. And Tyler knows it. Time to set the record straight...
New York, NY (PRWEB) November 24, 2011
Touch 1 Media LLC (http://www.touch1media.com) announces the release of former radio executive Melvin Childs memoir, Never Would Have Made It: The Rise of Tyler Perry, the Most Powerful Entertainer in Black America (And What It Really Took to Get Him There), (ISBN# 978-0-9847115-0-5; Hardcover, 240 pp 24.99; E-Book $9.99). The book is slated for a January release, with preview autographed copies and e-book formats on sale today exclusively on http://www.tylerperrybook.com.
Never Would Have Made It is a truly compelling coming-of-age story about two young men whose lives intersected right at the precipice of giving up hope. Tyler Perry and Melvin Childs' chance meeting changed both of their lives forever.
This book is one man's account of betrayal, friendship, hard work, and success. It proves that friendship doesn't always stand the test of time. Childs recounts the discovery of a brilliant young writer whose career had yet to be recognized. He describes his early attempts at promoting what he saw as a diamond in the ruff, and this book touches upon what most success stories never reveal.
In his own telling, Perry has revealed to his fans that he was once homeless and living out of the back seat of his car, depending on the kindness of friends for food and shelter. Childs writes thoughtfully about a different side of the revered playwright, who severed their relationship with no explanation and used his original marketing blueprint to help create the framework for the future Tyler Perry Hollywood brand, today a multimillion-dollar moneymaking machine.
In Never Would Have Made It, Childs confides for the first time ever his personal story of being a mentor, producer, and friend to Tyler Perry. He admits his failings in trying to market the young Tyler Perry, as he himself was a budding promoter and producer. Childs describes his first failed effort to tour Perry's play, I Know I've Changed, and the sacrifices he made with his family. He also details what ultimately led him to rely on his trusted friend and older mentor, Arthur Primas, whom he saw as a "father figure." Primas is erroneously credited today with launching Tyler Perry's career.
In this riveting account, Childs reveals secret backroom deals, illicit cash, backstabbing, and double-dealing. This book is a portrait of human nature, big business, betrayal, and finding forgiveness.
Melvin Childs has proven to be a survivor. Today, he is a successful promoter/producer of concerts for popular R&B recording acts in and around his hometown of Oklahoma City. As executive producer of what turned out to be Tyler Perry's first successful national tour for I Know I've Been Changed, Childs revolutionized the marketing format for black theater.
If you are a Tyler Perry fan or have been hurt by someone you believe in, then Never Would Have Made It is a must read. This book shares how faith can make you whole again.
About the Author. Melvin Childs: Over the last 15 years, few individuals in the entertainment industry have been more innovative and resourceful than veteran promoter/producer Melvin Childs. Known for his critical eye for spotting new talent, Childs has worked tirelessly behind the scenes as a successful promoter to launch the careers of many struggling artists. The Oklahoma City native began his career as a radio advertising executive.
Media Contact: Francyne Ellison and Smeeta Narang at One Free Public Relations, Inc : (646) 494-2409
###