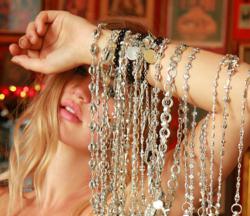 Harmony by Amyn was developed for people of all religions, race, sexual orientation and backgrounds.
Santa Monica, CA (PRWEB) November 24, 2011
Amyn the Jeweler has announced the official launch of the Harmony by Amyn silver jewelry line, a unique line that blends the beauty of jewelry with the power of harmony, with one goal in mind - to promote a feeling of oneness amongst different nations, races and cultures.
The new jewelry line is influenced by fashion and culture, while celebrating the unique characteristics of different peoples and their backgrounds, created the jewelry line to remind the wearer that everyone has the "right to be different" and still coexist in "Harmony."
Harmony by Amyn introduces impeccable style and beautiful jewelry, cufflinks, wallet chains, bracelets, pins and necklaces which are 100% handcrafted in 925 sterling silver and styled, designed and made in USA. His unisex designs combine creative elements amalgamated with  religion, cultures, royalty, and harmony with a twist of gothic, rock-n-roll and biker jewelry.  The jewelry of Harmony by Amyn are for people of all races, religions and sexual orientation in a hope to live with peace, love and harmony.
For more information about Harmony by Amyn - silver jewelry line visit: http://www.harmonybyamyn.com
For Media Enquiries:
cloud21.com
or email info(at)cloud21(dot)com
About Amyn the Jeweler
"Amyn" means - "Trust". He is professionally and socially known as Amyn The Jeweler. He is synonymous with impeccable style & beautiful jewelry since the early 1980′s. Born and raised in Mumbai, India, Amyn's maternal family has been in the jewelry business for the past four generations. Designing jewelry is a part of Amyn's DNA. Amyn always knew he would be a jewelry designer.
After immigrating to Los Angeles, Amyn opened Jewelry on 7th, a chic boutique in Santa Monica, California on November 7th 2004. His boutique caters to a long list of celebrity and high profile clients from around the globe.
A long list of high profile and celebrity clients would agree, Amyn The Jeweler knows how to create jewelry that makes anyone wearing his pieces feel in Harmony.
About Cloud 21 PR
Cloud 21 PR is based in Los Angeles, CA with satellite locations in Atlanta, London, and Bombay, India. With it's innovative publicity approach, Cloud 21 offers exceptional services in the field of Online Publicity, Digital PR, Media Outreach, Product Launches, Product Placement,Social Media Branding and Celebrity Seeding. Cloud 21 PR has positioned itself very strongly with the celebrity gifting suites and luxury lounges during the Sundance Film Festival, Oscars, Grammy Awards, MTV VMA and other industry events.
###