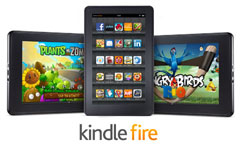 Kliqo is giving away the Amazon Kindle Fire every Friday until the New Year!
San Francisco, CA (PRWEB) November 25, 2011
Based in the heart of Silicon Valley and backed by private investors and venture capitals, Kliqo is a social marketing platform that combines social interaction with gaming to giveaway awesome sponsored prizes. Kliqo launched in June of 2011 sponsoring their own products for it's winners but they are now back and ready to giveaway more great products and prizes that are sponsored by its merchants. The concept of the game is for users to join one of the sponsored events, click the Kliqo button at the end of a countdown, and the winner is rewarded for clicking the fastest. And unlike many other giveaway sites, winners are not randomly drawn. Participants for the events are encouraged to share on their social networks to gain up to a one second head start and are allowed to click one second before the end of the countdown. After a successful launch, Kliqo redesigned their website and modified their gaming platform. After a long awaited month of redesign, Kliqo has launched once again.... but this time, with the support of many sponsors. In addition, they now have the app available for iPhones, Android phones and tablets. From movie tickets to the new Amazon Kindle Fires, Kliqo currently holds multiple events every Friday. Kliqo has announced the giveaway of one Kindle Fire every Friday to the winner until the New Year. Kliqo currently focuses on supporting small to midsize companies to introduce their products and services with a goal of partnering with all companies in the market. To date, they have shown successful results in driving traffic to their sponsors' websites and introducing products through social networks. They are now in the process of arranging a much larger scale event which will be announced in the near future. With the strategic relaunch of Kliqo to coincide with today's Black Friday and the upcoming holidays, Kliqo and their sponsors prepare for major giveaways without the long lines.
###