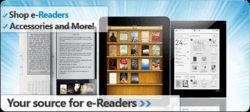 Please enter this Exclusive Coupon code in the checkout upon order completion
"HOLIDAY2011"
(PRWEB) November 25, 2011
Shop e-Readers is offering many of the most popular e-readers to customers living in Canada, Australia, New Zealand, UK and other markets. Many of the recently issued devices such as the Kindle Fire, Kobo Vox, Nook Tablet and Kindle Touch are only available for purchase in the USA. Shop e-Readers fills the void left in the rest of the world and offers these devices at affordable prices.
The Kindle Fire and Nook Tablet are two of the most popular devices available for the upcoming holiday season and Amazon is projected to sell almost 5 million of them in November and December. This is creating a huge demand for the tablet in international markets because of the spartan selection of competing devices.
Shop e-Readers offers the latest generation e-readers that are used for reading electronic books. Popular devices such as the Kindle Touch, Nook Simple Touch, Kobo Touch and Sony PRS-T1 continue to lead the charge for traditional e-ink based readers. Android readers are proving to be fairly popular because you have the ability to watch videos, play games, download apps and surf the internet.
Just in time for the holidays, Shop e-Readers now have major credit card processing. This allows customers to pay for the e-readers and tablets via popular credit cards such as; Visa, Mastercard and American Express. As always, PAYPAL continues to be a viable option for the internet savvy demographic.
"We are very excited to be in our second full year of selling e-readers to customers in Canada, Australia and New Zealand, which continue to be our most popular markets. It is our mantra to shop all orders out within a few days and overseas clients are seeing their devices shipped to them in under a week. The Amazon and Barnes and Noble line of e-readers and tablets continue to be our best sellers and we even throw in a free DVD Video Tutorial and 100 free books with every order," said Kelly Robertson, the Director of Media with Shop e-Readers.
About Shop e-Readers
Shop e-Readers is a Vancouver, British Columbia based company that has been in business for over two years. The company deals with many local bookstores in Vancouver and allows them to be competitive selling e-readers that are traditionally not available in Canada. Currently Shop e-Readers is the largest online webstore exclusively dealing in e-readers with over 120 in stock.
###