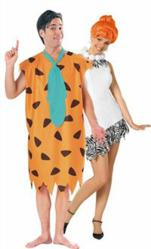 We have noted a significant increase in the number of couples fancy dress costumes being purchased from our online store
Wickford, UK (PRWEB UK) 26 November 2011
It is hard to beat a classic partnership and it would appear consumers feel exactly the same, with All Fancy Dress reporting a growing demand for couples costumes modelled on well-known duos. from the worlds of TV and film.
With Christmas just around the corner festive fancy dress parties with friends and family are firmly on the horizon. Matt Foden, of All Fancy Dress, believes more and more couples are choosing to attend the big bash in matching outfits.
He said: "We have noted a significant increase in the number of couples fancy dress costumes being purchased from our online store. Couples costumes are all about co-ordination, whilst ensuring people look the part with minimal effort.
"Fortunately at All Fancy Dress we stock loads of brilliantly paired outfits, whether it's Fred and Wilma Flintstone, Danny and Sandy from Grease or the rather more playful lucky Leprechauns, our popular themes ensure couples can attend the party together looking absolutely great. Why go to the trouble of spending hours searching for 2 costumes that match when perfectly matched costumes already exist?"
Best of all, there are couples costumes designed to suit the mood of any fancy dress party. Elf costumes can be great fun to wear together at Christmas, while Halloween-themed parties may require something a little more sinister like vampire couples costumes. Similarly a 1960's-themed party is simply crying out for couples to recreate those wild hippy days.
About All Fancy Dress
http://www.allfancydress.com has developed into the UK's leading online fancy dress discount retailer, serving customers from across the UK and beyond. They hold over 4000 items in stock and ship to the UK and Europe.
###