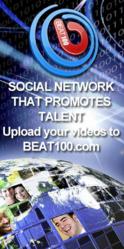 Beat100.com has found its own gem in teen sensations Us & Her. Us & Her are a family band from Essex only consisting of two members, 12 year old Casey Kaye on lead vocals & 16 year old Taylor Kaye on keyboard & backing vocals.
London (PRWEB) November 25, 2011
For people that think talent is few and far between, the truth couldn't be further away!
Beat100 has even in its early stages proved to be a fantastic launch pad for unsigned talent with bundles of videos being uploaded onto the social/video networking site.
Simon Cowell can keep Birdy all to himself & Justin Bieber may as well stay in the U. S of A because Beat100.com has found its own gem in teen sensations Us & Her. Us & Her are a family band from Essex only consisting of two members, 12 year old Casey Kaye on lead vocals & 16 year old Taylor Kaye on keyboard & backing vocals. The duo state on their Beat100 profile "we are loving writing our own music, doing covers, and gigging" however, after watching the video, a cover of Jessie J's 'Nobody's perfect', it becomes apparent that this sort of talent can go a lot, lot further. Expect to see much more from this incredible young act in the very near future.
Beat100 has also had to privilege of housing other astonishing acts within its music & lifestyle charts. Beat100's pick of the week is an act with acoustically soulful vibes and an urban edge, the trio hailing from East London & the south east are called New Subjects & have already been making shock waves across the country in national talent competition 'Live & Unsigned'. New Subjects video on Beat100 shows the boys performing their own song 'Something more than love' in said competition at Londons O2 arena, Gary Whittington (MC) exhibits a slight resemblance to music superstar Example in the way he delivers his performance bursting with confidence. With Johnny Thorpes soulful voice and Matt Richards superb time keeping, New Subjects are quickly becoming a force to be reckoned with.
The Video Lifestyle chart in no way takes a back seat on Beat100, for every talented musician that uploads a video into the Music Chart there is a trial biker, dancer, film maker, animal enthusiast or natural born entertainer that matches them in the Lifestyle Chart, pound for pound.
Sam Barnes of Eastwood, Essex used Beat100 as a launch pad for his budding career in graphic design for interactive media. Sam uses the poem 'Yellow Star' by Kate Ruse in this tranquil piece which see's the young man in the poem traveling across a wild countryside accompanied by the epic yet chilling music 'First Snow' by Clint Mansell. Originally a Uni project it has quickly become a piece of inspiration for many after viewing it on Beat100.com.
Beat100 has become a hub to uploads of all sorts and continues to expand by the day, soon there won't be a need for television programs such as the X Factor as people can watch raw talent with the click of a mouse and vote for free while not lining someone else's pocket, Beat100 is 100% for the people.
Beat100 is not just a site about making & uploading videos and receiving a whopping great pay check for your troubles. Beat100 is also about promoting talent and ensuring that there is a future in the music industry for individuals & groups that would otherwise find it increasingly difficult to get their names out there.
In its first week of going live, Beat100 boasted many talents seeking out places in the music chart. The two top spots were taken up by two different acts - one solo performer named Kelly Donovan and Southend born band going under the title of 'Plastic Youth'.
Kelly Donovan (17) a singer/songwriter from Essex, UK has been making waves throughout the music industry throughout 2011 despite being only 17 years of age. Kelly has written songs from a very young age and the depth and feeling that come across through her lyrics and delivery confirm that she's already an experienced talent despite having the best part of her life ahead of her.
Kelly began to get noticed for her music shortly after signing up to occupation based social networking site, Linkedin.com. Kelly has well in excess of 1500 connections on the site, the majority of which want to work with her. Through this, she's hoping to be signed by a company such as Island Def Jam, Sony or Universal etc. It's even obvious from across the pond that Kelly Donovan has what it takes in abundance to make it to the top.
Kelly has just released her debut single with fellow musician 'Yung Axe' Campbell through ITunes, Napster & Spotify. The single named 'Dreamer' released on the 7th October 2011 on Island Def Jam Distribution is a collaboration between the two youngsters which shares their vision that they have a dream and will go to the end until they make it happen. Kelly & Axl hooked up after realizing they were both keen musicians whilst working together at Adventure Island on Southend-on-Sea's golden mile. 'Dreamer' is just one of a few songs that the pair have written together & recorded with Tom Strike (Team Franklin) in Hockley, Essex.
Kelly says, "We are currently still writing and producing music together and, in the long run, would like to co-write and, if possible, branch out into our own solo careers."
You can purchase 'Dreamer' by Kelly Donovan & 'Yung Axe' Campbell now at I Tunes.
###