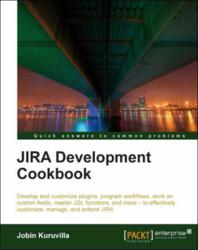 UK (PRWEB) November 27, 2011
Birmingham: Packt Publishing is delighted to announce the publication of the JIRA Development Cookbook, the second JIRA book from Packt in 2011. The JIRA Development Cookbook enables readers to develop and customize plugins, program workflows, work on custom fields, master JQL functions, and much more. The book and eBook is available from Packt Publishing and other leading retailers.
What is the book about? Aimed at JIRA developers or project managers who want to fully exploit the exciting capabilities of JIRA, the JIRA Development Cookbook consists of more than 100 recipes split across eleven chapters. Book chapters include: Working with Custom Fields, Programming Workflows, The Power of JIRA Searching, Customizing the UI, Remote Access to JIRA, and more. A full description of the book's contents, including a complete Table of Contents can be found on the Packt Website. And what is JIRA? Atlassian JIRA is one of the world's most popular issue tracking software packages.
The JIRA Development Cookbook is Packt's second JIRA title. In May 2011, Packt published JIRA 4 Essentials. This tutorial book shows readers how to 'Get Started' with JIRA; how to plan and design JIRA implementations, as well as how to customize JIRA to adapt it to organizations and add value to businesses. The JIRA Cookbook complements JIRA 4 Essentials.
About Packt Enterprise. Packt Enterprise is a publishing division of Packt Publishing designed to serve the information needs of IT Professionals in the Enterprise space. As well as publishing on JIRA, Packt Enterprise also publishes on Microsoft, IBM, Oracle, Citrix, Java, Amazon, Google and SAP technologies.
###