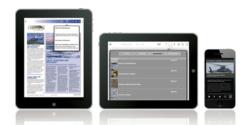 Our newly enhanced digital publications give readers a level of interactivity that is second to none
Winnipeg, Manitoba (PRWEB) November 28, 2011
To the surprise of some the number of individuals reading magazines is on the rise, not only in print, but also digitally. While viewing digital magazines is nothing new, utilizing iPads or other tablets to do so is gaining popularity. In order to better respond to those individuals, Craig Kelman & Associates are offering a new state-of-the-art, highly interactive digital version of their publications.
"Print media will always be important but digital media is increasingly going hand in hand, each complementing the other," said Cole Kelman, co-owner, and Vice President of Craig Kelman & Associates. "Our newly enhanced digital publications give readers a level of interactivity that is second to none."
Along with a realistic feel that mimics their printed counterparts and a feature that allows the reader to share the content with their social networks, Kelman's new digital publications will include special mobile versions. If opened on an iPad, the publication will recognize the device and run a special version designed specifically for the iPad. An iPhone version and versions specific to other tablets are in the works.
If you're interested in Kelman's newly improved digital publications or are looking for a publishing design company, contact Cole at Craig Kelman & Associates.
###