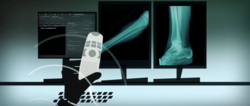 We continue to focus on workflow automation and improving the personalized experience in order to boost radiologist productivity
Chicago, IL (PRWEB) November 28, 2011
Intelerad® Medical Systems, a leader in medical imaging PACS, RIS and workflow solutions, today announced new functionality for its Multi-Method Reporting voice recognition module for use with IntelePACS®, InteleOne®, or InteleSuiteTM. The new features will be demonstrated at the RSNA annual meeting, Nov. 27 to Dec. 2 in Chicago, Illinois.
Embedded in InteleViewer™'s reading and reporting solution, Intelerad®'s Multi-Method Reporting module boosts reading speed and productivity with a powerful voice recognition engine and customizable library of structured report templates.
The enhanced Multi-Method Reporting module offers a flexible new workflow option, enabling radiologists to save in-progress reports for completion later. This "long-term parking" feature retains the draft report in the reading state, allowing the radiologist to move on to other priorities and resume as desired.
Another new productivity feature is the ability to use voice-activated commands and custom-mapped speech microphone buttons, alone or in combination, to call up templates and quickly move through sections of a report. This dramatically improves reporting speed and the user experience.
For increased reporting accuracy and time savings, the information in HL7 fields can now be auto-inserted into report templates, eliminating the need for radiologists to re-dictate information in the final report.
"We continue to focus on workflow automation and improving the personalized experience in order to boost radiologist productivity," said Rick Rubin, Intelerad Chief Engineering Officer. "Our goal is to increase radiologists' reading speed and comfort, enabling enhanced productivity and accuracy."
Demonstrations will take place at RSNA 2011: Intelerad booth #4053, Hall A.
For more information and to schedule a demonstration
Please contact Helene Gey
Intelerad Medical Systems Incorporated
514.931.6222 ext. 7424
helene.gey(at)intelerad(dot)com
http://www.intelerad.com
About Intelerad
Intelerad Medical Systems is a leader in distributed radiology, specializing in RIS, PACS and workflow solutions for healthcare organizations. Intelerad's solutions increase productivity and streamline workflow by overcoming technical barriers in distributed and complex environments. Highly scalable, flexible and robust, they offer high performance and industry leading customer service and support. Intelerad solutions such as KLAS category leader IntelePACS® and Frost & Sullivan Healthcare Innovation Award recipient InteleOne® are used in more than 800 sites across North America, Oceania and the United Kingdom.
###