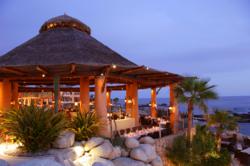 We're excited to introduce this new 'sea to table' dining experience that gives guests a true sense of place," said John Washko, Vice President of Operations for Auberge Resorts.
Cabo San Lucas, Mexico (PRWEB) November 29, 2011
Esperanza, an Auberge Resort, introduces guests to a new "de mar a mesa" or "from sea to table" refined dining experience at its signature waterfront restaurant, El Restaurante. With the debut of its "Cocina del Mar" dinner menu, Executive Chef Gonzalo "Gonzo" Cerda and his team will transform evenings at El Restaurante with a new menu that highlights the region's fresh seafood from the Sea of Cortez and Pacific Ocean accented with some of the finest Mexican spices and organic produce from local purveyors.
"We're excited to introduce this new 'sea to table' dining experience that gives guests a true sense of our location," said John Washko, Vice President of Operations for Auberge Resorts. "With Cocina del Mar, guests can enjoy a culinary journey that is inspired by our resort's seaside location."
Guests ordering from the ever-changing menu will be able to experience a variety of course options that draw from elements of the sea and spotlight seasonal catches, including:

Sense of Beginning (starters): Specialties include Seafood "Tortilla" Soup with poached lobster, scallops, shrimp and littleneck clams combined with crispy corn tortillas, guajillo chili, cilantro and avocado; Chilled Avocado Soup with green apple granite and mint oil from Esperanza's garden; and The Tower – seared ahi tuna and Baja lobster, pickled red onion, seaweed salad, avocado, sriracha remoulade and Chilean "pebre" salsa.
Sense of Place (main course): Featured main course options include Baja Lobster Risotto with lemon zest, yuzu and cherry tomato confit; Mahi Mahi grilled with epazote-cilantro risotto and criolla salsa; and for the land lovers, Three Little Pigs – slow cooked suckling pig with apricot chutney, braised Mexican pork shank "Chamorro" au jus, and roasted petit pork tenderloin stuffed with figs served with yam-potato puree.
Sense of Balance (vegetarian): Celebrated dishes include Vegetarian Tian, a medley of grilled zucchini, eggplant, peppers, Portobello mushroom, goat cheese and pormarola sauce.
El Restaurante is located on one of Esperanza's open-air terraces carved into the bluffs along the Sea of Cortez. Guests can enjoy unrestricted views of the water and Cabo San Lucas' scenic coastline. The design of the restaurant blends typical native materials such as stone and dark wood, covered by a palapa-crowned roof centered by a magnificent rustic chandelier. Dishes are complemented by an extensive list of wines from the California, Mexico and South America regions, as well as a premium selection of spirits and beer. The new "Cocina del Mar" menu will only be offered for dinner served prix fixe or a la carte. El Restaurante is open daily from 6pm to 10pm.
Esperanza encompasses a 57-room resort, 60 privately owned villas, 36 private residences, a full-service spa and a signature restaurant, located on the bluffs overlooking two private coves at Punta Ballena near Cabo San Lucas. The resort is a member of the prestigious Relais & Châteaux collection. For reservations or more information, please call 866-311-2226 or visit http://www.esperanzaresort.com
About Auberge Resorts
Auberge Resorts is a collection of exceptional hotels, resorts and private clubs, each with a unique personality that assures a memorable guest experience. While Auberge Resorts nurtures the individuality of each establishment, all are characterized by a set of communal elements: intimate, understated elegance; captivating locations that inspire exceptional cuisine and spa experiences; and gracious yet unobtrusive service. Among the Auberge Collection of distinctive properties are: Auberge du Soleil, Napa Valley, Calif.; Calistoga Ranch, Napa Valley, Calif.; Solage Calistoga, Napa Valley, Calif; Encantado, Santa Fe, New Mexico; Esperanza, Cabo San Lucas, Mexico; The Inn at Palmetto Bluff, Bluffton, S.C.; Rancho Valencia Resort and Spa, Rancho Santa Fe, Calif.; Element 52, Telluride, Colo.; Hotel Jerome, Aspen, Colo.; and Auberge Residences, Mammoth, Mammoth Lakes, Calif. with several others currently in development. For more information about Auberge Resorts, please visit http://www.aubergeresorts.com.
Kimi Ozawa / Sean Marier
Murphy O'Brien, Inc.
(310) 453-2539
kozawa(at)murphyobrien(dot)com
smarier(at)murphyobrien(dot)com
# # #