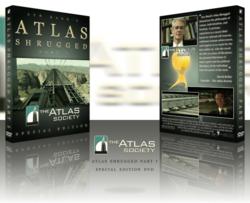 This film is going to turbocharge the debate over Rand's vision of capitalism as a moral ideal
Washington, DC (PRWEB) November 25, 2011
The Atlas Society announces its special edition of the DVD of Atlas Shrugged Part I. In addition to the movie, the The Atlas Society edition includes:
Three beautifully produced video commentaries by David Kelley, Exclusive footage from the April 14th premiere, Photos from the premiere, and "The World of Atlas Shrugged" audio program (MP3 and ROM).
Also today, the producers of the film began taking pre-orders for the Official Atlas Shrugged Movie Blu-Ray which if ordered today, will be delivered by December 19-23. This exclusive Blu-Ray disc will only be available online and contains an "I am John Galt" fan video compilation, special commentary from the Producers and Screenwriter, and additional materials from The Atlas Society, Reason, and Freedomworks.
Atlas Shrugged Part I, the first installment of a film trilogy of Ayn Rand's magnum opus, was released in theaters on April 15. That novel, always a steady bestseller, has seen a surge in sales in recent years because of the parallels in its story and events in the world today: banking collapses, auto company bankruptcies, politicians promoting class warfare, and assaults on productive and thus prosperous individuals.
The film was much acclaimed by audiences but denounced by most critics. For many, seeing businessmen and women portrayed as heroic creators in love with their work, in contrast to those in business who profit from government handouts and regulations that kill their competitors, didn't fit in their worldview.
This exciting and thought-provoking film was produced by Atlas Society Trustee John Aglialoro. The Atlas Society Founder and CEO David Kelley consulted on the script to make sure it was true to Ayn Rand's philosophy of Objectivism.
To learn more about The Atlas Society Special Edition DVD, contact:
David Kelley, CEO
dkelley(at)atlassociety(dot)org
(202) 296-7263 (AYN-RAND) extension 1.
or
Ed Hudgins, Director of Advocacy
ehudgins(at)atlassociety(dot)org
(202) 296-7263 (AYN-RAND) extension 2.
About The Atlas Society
Founded in 1991, The Atlas Society (TAS), a 501(c)(3) nonprofit organization headquartered in Washington DC, develops and promotes open Objectivism: the philosophy of reason, individualism, achievement and freedom. Objectivism was founded by Ayn Rand (1905-1982), the author of Atlas Shrugged, The Fountainhead, The Virtue of Selfishness, and other works. As the founders of open Objectivism, TAS believes that the philosophy is a body of knowledge open to expansion and revision, through rational inquiry and open discussion and debate. The organization's programs reach a broad audience ranging from the general public to graduate students in philosophy. Learn more about The Atlas Society and its distinguished staff and Board of Trustees at http://www.atlassociety.org.
###