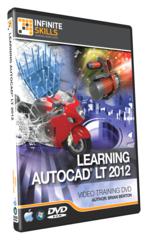 Teaches you how to use AutoCAD LT 2012 using a practical hands-on approach
(PRWEB) November 27, 2011
InfiniteSkills Inc has released a new AutoCAD LT 2012 training video course to assist beginners in learning the fundamentals of drawing, editing, printing and sharing CAD projects in a professional environment. The 108 lesson series also includes tips on efficiency and productivity, emphasizing industry best practices and effective data management.
AutoCAD LT 2012 Tutorial Video - Training Course
"Because AutoCAD LT is a more affordable version of the program, it's the one that a lot of beginners start out with," said Colin Boyd, sales director for InfiniteSkills. "So with the same approach used in our massively popular AutoCAD tutorial series, we've created a perfect guide to 2D design in LT, going from the ground up."
The multi-part AutoCAD LT training course is presented by Brian Benton, a leading author, trainer and expert AutoCAD user known throughout the CAD community and at his site Cad-a-Blog. Benton has drawn from his extensive knowledge of the program to design a course that teaches fundamental concepts first and then builds to topics and techniques of increasing complexity.
The first lessons in the AutoCAD LT course focus on installation and configuration, new features and the AutoCAD interface, providing a thorough understanding of how the software's tools can be accessed during a project. Next, the training moves through basic operations and drawing tools, teaching camera controls, methods of measurement and how to create basic lines and shapes, ensuring that they not only look right but also match the scale necessary for the final design. The course moves through editing tools, layers and blocks, which allow users to recreate similar objects again and again without redrawing. Finally, the course also covers annotation, printing and publishing, with step-by-step guidelines for creating accessible documents that professional engineers and contractors will readily understand.
"This is not just a walkthrough of AutoCAD features, but a great way of learning how the program can be used to get real work done," said Chris Johns, InfiniteSkills content coordinator. "Brian encourages users to think about challenges the AutoCAD way, and shows how to complete each major stage of design in an efficient, organized way."
The course includes usable work files that match the video lessons from each chapter. These examples put previously explained concepts into practice and build on one another, culminating in the design of a small movie theater that meets realistic specifications.
The AutoCAD LT 2012 Tutorial Video by InfiniteSkills can be ordered to own on CD / DVD or instantly downloaded from the training product website. All 108 lessons can be viewed on Windows or Mac computers, and both editions of the course retail for $99.95. Further information and 24 free demo lessons can be found on the tutorial page.
http://www.infiniteskills.com/training/learning-autocad-lt-2012.html
About InfiniteSkills Inc
InfiniteSkills provides practical training videos on the most highly demanded professional software and programming languages in the world. With an expanding library of affordable courses, the company has established itself as a premiere content provider for technology education.
###