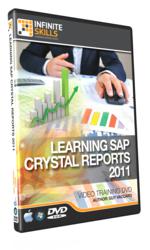 Makes learning Crystal Reports Easy. Breaks even the most complex topics down into easy to follow stages
(PRWEB) November 28, 2011
Video training developer InfiniteSkills is now offering a Crystal Reports 2011 Tutorial Video designed to help users learn how to use one of the world's leading business reporting and presentation managers. Professional technology trainer Guy Vacarro has authored a video series that shows not only how to create custom reports, lists and mail labels but also how to connect the software to existing databases and servers for up-to-date information.
Crystal Reports 2011 Tutorials - Training Video Course on DVD
"Crystal Reports is a program that straddles the line between an I.T. product and a pure business tool," said Colin Boyd, sales director for InfiniteSkills. "Luckily, these tutorials focus on both aspects of the program, showing how to get the program to communicate with existing databases and servers, and also how to create boardroom-ready presentations that put critical information in decision-makers' hands."
Over the series of 128 lessons, Guy Vacarro demonstrates how to use Crystal to manipulate data in a number of ways: creating list reports, grouped reports, form letters, summary reports with drill-downs and more. The course provides advice on using formulas to calculate new data, using filters to sort relevant data, and adding graphics and design elements to enhance the appearance of reports.
The Crystal Reports 2011 training follows a logical progression. After a basic introduction, the first lessons show how to create a report from scratch. Then, viewers learn how to format the appearance of the report, sort data within the report, and filter data as needed. The next tutorials look at grouping data, working with special fields and creating summaries that break own vast amounts of information into usable, actionable points. The more advanced chapters then go into actively linking a report to databases and servers and implementing formulas in a report, and the last section covers distribution, from exporting to email to placing reports onto servers where the right personnel can review results.
"Like our previous Crystal Reports tutorials, the new training is designed to familiarize the user with a complete workflow from raw data to presentation," said Chris Johns, content coordinator for InfiniteSkills. "To make getting hands-on even easier, each chapter includes usable files that match the exact examples used by Guy onscreen."
The work files are included in both the DVD-ROM and digital download editions of the Crystal Reports 2011 Tutorial Video series. Both versions include all 9.5 hours of training and are playable on both Mac and Windows computers. The retail price is USD $99.95, and it is available to order by customers worldwide. A list of all lessons included in the course and 24 free demo videos can be accessed on the Crystal Reports 2011 training product page.
Crystal Reports 2011 Tutorials - Training Video Course on DVD
About InfiniteSkills Inc
With a combination of strategic content partnerships and professional tutorials produced in-house, InfiniteSkills has become a premier supplier of eLearning and technology training solutions to individuals and organizations around the world. The North American based company continues to innovate and grow, with new courses every month and ventures into the mobile app space.
###