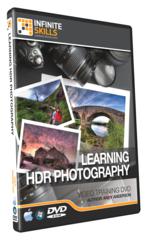 Learn the techniques to create stunning HDR images. This easy to follow course shows you all you need to know.
(PRWEB) November 29, 2011
Training developer InfiniteSkills has now released a new HDR Photography Tutorial Video Course that introduces the basic concepts behind high dynamic range imaging and goes step by step through the production of professional quality HDR images. With 3 hours of hands-on lessons, the course moves from planning to shooting to HDR processing and image correction. The lessons include extensive guidance on using Photomatix and Adobe Photoshop to create both realistic and hyper-realistic digital photos.
HDR Photography Training Video - Tutorials on DVD
"After the success of our Photoshop for Photographers course, we knew there was a demand for real world training in photography skills," said Colin Boyd, sales director for Infinite Skills. "So we've put together a unique hands-on course on HDR, a quickly growing set of techniques changing the way many professional and amateur photographers go about their work."
The HDR imaging training course is led by Andy Anderson, a world class trainer who has authored 17 books and led training seminars for companies and institutions as diverse as Boeing Aircraft and The White House. Anderson's professional history and perspective frame many of the photography lessons, as he explains even advanced theory and technical details in discrete steps that even beginners can understand.
The HDR tutorials begins with a basic definition of dynamic range, exposure, and the ways high dynamic range techniques are used by different photographers. After establishing the basic background, the lessons move right into camera controls and shooting techniques, with tips for a wide range of cameras, from basic consumer models to DSLRs. The next chapters focus on uploading the raw images and effectively managing and processing them on a computer, using Adobe Photoshop and Photomatix by HDRSoft. Anderson covers merging, tone mapping, exposure fusion and more.
"Andy is a natural with a camera, and he's able to bring his enthusiasm and professionalism into every lesson he does," said Chris Johns, content coordinator for InfiniteSkills. "That means tutorials that are very, very informative but also fun to watch. Absolutely anyone can learn pro-level techniques from this training."
The InfiniteSkills HDR Photography course closes with lessons on fine-tuning images and dealing with common challenges often encountered in the process. Anderson shows how to deal with excessive image noise, enhance dull images and produce HDR effects with black and white photos.
The complete HDR Photography Training Video series can be ordered directly from Infinite Skills as a Mac and Windows-compatible DVD-ROM or as an instant download from the HDR tutorial page. The course includes sample images that allow viewers to follow the onscreen examples and begin learning without existing media. The full package retails for USD $99.95 and can be purchased worldwide.
Free demo tutorials and a complete listing of chapters included can be found on the product page.
http://www.infiniteskills.com/training/learning-hdr-photography.html
About InfiniteSkills Inc
InfiniteSkills is a leading provider of professional training solutions on best-selling creative software, productivity applications and programming languages. With a dual focus on technical innovation and customer service, the company continues to find new ways to deliver educational content to individuals and organizations around the world.
###