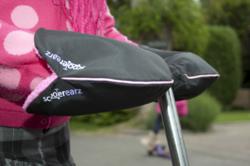 "They will not get lost, like gloves, as they stay attached to the scooter whilst still allowing them to grip the handlebars"
(PRWEB UK) 29 November 2011
Scooterearz is a weatherproof hand mitt that attaches securely to the handlebars of any scooter. Featuring an elasticated cuff they can easily be transferred to another scooter and with a wider than normal opening little hands can rapidly be removed if need be.
They feature a black weatherproof fabric with a fun fur lining that's available in a choice of 4 bright fun fur colours.
Suitable for ages 3-12 they are an easy way for children to accessorise their scooters and kids will love the chance to look cool while staying warm.
With an RRP of £12.99 they make the perfect stocking filler for this time of year.
Please visit us at http://www.scootereraz.com for further information.
WHO WE ARE:
Scooterearz is the brainchild of Vickie Bryars and Elisa Everitt who between them have seven children,ranging in age from 2 to 9.
Initially they made samples for their own children to use, but after receiving so many positive comments from other local mums- and inspiring a case of serious playground envy at their local school- Scooterearz the company was born.
###