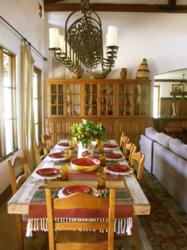 The holiday season can and should be a time to celebrate rebirth, renewal, and recovery!
Laguna Niguel, CA (PRWEB) November 29, 2011
Celebrate A New Life, a Christian drug faith based rehab program, takes special care to work with their clients who will be in addiction treatment during the holiday season. "Most people look forward to the holidays – Thanksgiving, Christmas, and New Years – however, for our clients who are new in recovery, perhaps just out of detox, the holidays can represent stress and relapse triggers," explains Robert (Bobby) Nicholl, Celebrate A New Life's Director of Admissions, "many clients cannot imagine celebrating a holiday without drinking/drugging and their holiday memories are frequently those of family arguments and disappointments."
Celebrate A New Life's staff starts early in the holiday season to assure that each client's needs are met. This is a process that includes:

Determining which clients are stable enough to travel home and spend the holidays with their family and friends.
Arranging for sober travel companions may be an option for those new in recovery.
Reaching out to family members, inviting them to make a family visit during one or each holiday.
Planning holiday meals.
Coordinating clients' attendance at Alcoholics Anonymous meetings.
Participating in Celebrate Recovery meetings and church services at Saddleback Church.
Organizing fun activities – movies, hiking, bike riding, walking, board games, or plan an outing to an amuzement park. For example, this year Celebrate A New Life's clients visited Knott's Berry Farm the Friday following Thanksgiving.
"Holidays are frequently about traditions and it is our hope that we can teach our clients how to start new traditions by planning for success and supporting each other during the more difficult times. More than anything we work on learning how to ask for help. It is a new beginning in a healthy recovery," says Mr. Nicholl, "The holiday season can and should be a time to celebrate rebirth, renewal, and recovery!"
About Celebrate A New Life: Celebrate A New Life is a Christian Residential Drug Rehab and Alcohol Treatment Program, located in the coastal communities of Orange County Southern California. As an integrated component of one of the very best treatment facilities and drug rehab programs in the United States, Celebrate A New Life culminates a Biblical Christ centered approach to healing, restoration, and reconciliation to God, family, and to one's own dignity and self-worth. Celebrate a New Life offers 30-60-90 day programs in a comfortable safe ocean environment. If you or a family member is in need of help call toll-free 800-708-3173. We are available 24 hours a day seven days per week.
###