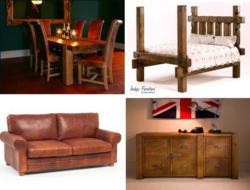 The packages offer savings and value for money that are welcome in today's financially conscious household.
(PRWEB) November 26, 2011
This move to introduce furniture packages came as a direct result of demand from customers for an increase in their distinctive furniture range, which includes Plank and Oak Furniture designs.Tim Lowry, Director at Indigo explains, "Our furniture is very distinctive, and our customers tell us that they want to be able to furnish an entire room or floor of the home in Indigo style all in one go, and receive some savings by doing so". The environmentally conscious business believes that the money saving packages also make a contribution to reducing their carbon footprint as less deliveries, mean less vehicles out on the road.
The furniture designer and manufacturer have established a reputation for unique chunky wooden furniture and are based in the Peak District in Derbyshire. They proudly offer extensive guarantees of up to 15 years on their pieces, and this focus on quality means their customers are buying 'investment' furniture that will last a lifetime. It is for this reason that buying Indigo's range in packages is a popular option amongst their ever-growing client base.
They currently offer four types of packages, two for the bedroom, one for the dining room and one for the living room. For the bedroom packages, customers can choose furniture from the Plank wood range, or the Riven Oak range. Both of these materials are hard wearing and celebrate the outstanding natural beauty of wood. The designs incorporate the manufacturing marks from where the wood has been sawn, meaning each piece is entirely individual, which is an unusual achievement in today's furniture manufacturing world.
The bedroom package includes the consumers choice of bed from their impressive range, which includes everything from statement Four-Poster beds to practical Kids Bunk Beds. Add to that the matching bedside tables and storage from their range of chest of drawers, and Indigo customers can save hundreds of pounds on the price of the individual items. They also have the option to add additional pieces such as a mattress and wardrobe to save even further on dream Indigo bedrooms.
Their Living room package also includes everything that every homeowner needs to kit out a lounge, including storage, coffee tables, TV unit and that all important sofa. The Indigo range of sofas include luxurious chenille and velvet fabrics and soft Italian leathers in a range of colours which perfectly compliment their chunky furniture designs.
In the Dining room package options, customers can choose from any of their stylish wooden dining tables along with an assortment of unique seating for a statement look which will be sure to impress every single dinner party guest. Their seating options include benches, stools and different chair designs, and these come in wooden, leather or fabric options. Many customers are choosing to 'mix and match' their seat choices for a vintage feel, which works perfectly with the statement Indigo wood pieces.
Whatever the choice, the furniture packages offered by Indigo Furniture certainly offer savings and value for money that are welcome in today's financially conscious household.
###