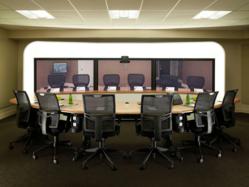 (PRWEB UK) 28 November 2011
Neotel, whose majority shareholder is Tata Communications, will be providing connectivity for the much-awaited 17th Conference of the Parties (COP17) to the United Nations Framework Convention on Climate Change, being held in Durban from 28 November – 9 December. Neotel will provide WiFi access for the entire conference as well as, together with partners CISCO and Dimension Data, power Telepresence rooms available for public use throughout the event, with connectivity via the Tata Communications global network.
Telepresence is the next generation video collaboration technology that creates an immersive virtual meeting environment that can make geographically dispersed users feel as if they are together in the same room.
In keeping with COP17's climate change agenda, the Telepresence rooms at the event will provide 20,000 delegates access to a game-changing collaboration tool that makes a significant impact on climate change via a reduced carbon footprint. Meetings held using Telepresence have a positive impact on the environment as a result of the reduced need to physically travel across continents. Operating a Telepresence room for one year has the same carbon footprint as a one-way transatlantic flight, and uses the same amount of energy as the ton of jet fuel that a jumbo jet burns between boarding and take off.
Sunil Joshi, Managing Director and CEO of Neotel, says, "Neotel is the only service provider in South Africa that can provide domestic and international connectivity with the exceptional high performance bandwidth capacity required for such technologies to be leveraged at such an event. In partnership with leading technology companies Tata Communications, Dimension Data and CISCO, COP 17 will now be able to seamlessly connect to and collaborate with the rest of the world – in real time and with high definition video and special audio effects."
The Telepresence rooms at COP17 will be connected, via Neotel, into Tata Communications' Global Meeting Exchange, one of the broadest and widest-reaching Telepresence networks available today. The rooms will also be a gateway to Tata Communications' public room Telepresence network which spans 36 rooms across five continents including the first public Telepresence room on its network in Africa, at Neotel's headquarters in Midrand. This network reach makes Telepresence a truly global business collaboration tool.
Vinod Kumar, MD & CEO, Tata Communications says, "Environmental sustainability and responsible business practices are key values within our own business strategy and operations. COP17 plays an extremely important role in raising the awareness of this ethos on the world's stage and we are delighted to be able to provide game-changing innovation, such as Telepresence, directly for its delegates to experience."
Many of Tata Communications' public Telepresence room partners are supporting the COP17 event and climate change initiative by waiving rental charges when their rooms are used for a meeting with a COP17 delegate. These partner rooms include Starwood (global), PLDT (Philippines), Compass (Hong Kong), Rendezvous (Singapore), TPEX (Amsterdam), Euratechnologies (France) and Confederation of Indian Industries (India). In addition, Magyar Telekom, Desca and TSTT in Trinidad and Tobago have also agreed to open their private rooms.
About Neotel:
Neotel is South Africa's first converged communications network operator. It provides a range of value-added voice and data services for businesses, wholesale network operators and providers and consumers using its pure-IP Next Generation Network, powered by Neotel's high-performance fibre optic backbone. Neotel connects the major centres in South Africa to each other and to the world, directly linking the country into Tata Communications' global Tier 1 network. Neotel offers fresh thinking, a creative approach, and flexible solutions for communications in South Africa.
About Tata Communications
Tata Communications is a leading global provider of a new world of communications. With a leadership position in emerging markets, Tata Communications leverages its advanced solutions capabilities and domain expertise across its global and pan-India network to deliver managed solutions to multi-national enterprises, service providers and Indian consumers.
The Tata Global Network includes one of the most advanced and largest submarine cable networks, a Tier-1 IP network, with connectivity to more than 200 countries across 400 PoPs, and nearly 1 million square feet of data center and collocation space worldwide.
Tata Communications' depth and breadth of reach in emerging markets includes leadership in Indian enterprise data services, leadership in global international voice, and strategic investments in South Africa (Neotel), Sri Lanka (Tata Communications Lanka Limited) and Nepal (United Telecom Limited).
Tata Communications Limited is listed on the Bombay Stock Exchange and the National Stock Exchange of India and its ADRs are listed on the New York Stock Exchange (NYSE: TCL).
http://www.tatacommunications.com
Forward-looking and cautionary statements
Certain words and statements in this release concerning Tata Communications and its prospects, and other statements, including those relating to Tata Communications' expected financial position, business strategy, the future development of Tata Communications' operations, and the general economy in India, are forward-looking statements. Such statements involve known and unknown risks, uncertainties and other factors, including financial, regulatory and environmental, as well as those relating to industry growth and trend projections, which may cause actual results, performance or achievements of Tata Communications, or industry results, to differ materially from those expressed or implied by such forward-looking statements. The important factors that could cause actual results, performance or achievements to differ materially from such forward-looking statements include, among others, failure to increase the volume of traffic on Tata Communications' network; failure to develop new products and services that meet customer demands and generate acceptable margins; failure to successfully complete commercial testing of new technology and information systems to support new products and services, including voice transmission services; failure to stabilize or reduce the rate of price compression on certain of the company's communications services; failure to integrate strategic acquisitions and changes in government policies or regulations of India and, in particular, changes relating to the administration of Tata Communications' industry; and, in general, the economic, business and credit conditions in India. Additional factors that could cause actual results, performance or achievements to differ materially from such forward-looking statements, many of which are not in Tata Communications' control, include, but are not limited to, those risk factors discussed in Tata Communications' various filings with the United States Securities and Exchange Commission. These filings are available at http://www.sec.gov. Tata Communications is under no obligation to, and expressly disclaims any obligation to, update or alter its forward-looking statements.
About Telepresence:
Telepresence is an immersive meeting experience that offers ultimate video and audio clarity. Participants are life-size. Every sound, gesture, and facial expression supports natural communication.
Joining multiple Telepresence calls creates a single, exclusive meeting space. Intuitive functionality such as touch-screen interfaces, allows you to bring in other sites and presentations with ease.
Tata Communications' public Telepresence rooms are present across five continents, covering 17 countries including the USA, Canada, the UK, France, Belgium, Germany, the Netherlands, Kuwait, the United Arab Emirates, South Africa, Kenya, Uganda, India, The Philippines, Singapore, Japan and Australia.
Visit http://www.tatacommunications.com/telepresence for the full list of Tata Communications public room connections.
# # #