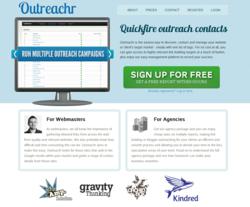 London, UK (PRWEB) November 29, 2011
The brand new social outreach tool Outreachr launches this week, and aims to make webmaster contact that little bit easier.
Research from the tool into website contacts in the online travel, finance and motoring industries has found that 35% more webmasters use Twitter than Facebook in 2011. The Outreachr team compiled the data in October 2011 by looking at over 100,000 websites to understand how they use Twitter, Facebook and more common contact forms.
54% of the websites analysed contained an external link to their Twitter feed, often incorporating plugin elements onto their page additionally, whereas just 35% linked to their Facebook profile, though again plugin elements were very common on the site from the social networking platform.
This news might be a surprise to many, given that Facebook's total users numbers nearly 5 times that of the micro-blogging sensation. It is also perhaps a surprise given that further research suggests that around 40% of Facebook users will interact with a brand through the platform, where only 25% will do so on Twitter, so the benefits of brands using Twitter ahead of Facebook is perhaps arguable.
Better news for PR firms perhaps, is that 89% of the websites analysed had a clear contact page – that is to say a single page devoted to contact details – meaning the chances of contacting a webmaster was much higher than perhaps might be expected. Of those contact pages, under 20% displayed a direct contact email, most most websites preferring to use a standard contact form embedded on their sites. Response rate on those contact forms is generally much lower than direct contact emails.
These statistics were compiled by the brand new social outreach tool for PR and link building Outreachr, which uses its huge index of websites and webmasters to provide users with a wealth of contact details from websites in a target sector. The tool takes a user's chosen tags and crawls its huge index of sites to find all those which match up. It then provides the user with a comprehensive list of contact details for all those sites, displaying Twitter, Facebook, contact forms for all when found, and additionally providing a platform through which to manage them.
The tool launches this week, and offers agencies and webmasters alike the opportunity to streamline their outreach processes and manage online contacts with ease. All this means easy contacting for outreach campaigns and quick-fire link building projects –most importantly saving users time and money.
###