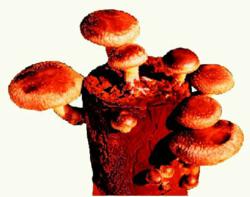 Best Flavor, Best Overall Value, too
Sebastopol, CA (PRWEB) November 27, 2011
Gourmet Mushroom Products introduces two ways of growing organic, gourmet mushrooms at home: Indoor mushroom kits for quick, delicious results and outdoor plug spawn for long term production.
For over 17 years Gourmet Mushroom Products (GMHP) has been bringing gourmet mushroom kits to into homes across the world. GMHP's improved Indoor Organic Mushroom Kits and Organic Plug Spawn are simple, fun, and have many environmental benefits.
A wonderful Holiday Gift surprise for a gourmand, budding scientist or avid gardener, the Organic Mushroom Kits are grown indoors at room temperature, create no mess, and only take up about 6 square inches of space. Kids and adults alike enjoy watching the mushrooms sprout and grow over the course of 4 - 14 days.
Sally L. from Wisconsin told GMHP about her first experience growing the Organic Oyster Mushroom Log: "I put up a sign saying 'Welcome to our Mushroom Garden!' I'm excited with the fruits of my first mushroom harvest; the first 'pinheads' formed on the oyster mushrooms about a week after my children and I set this up, and we were able to harvest the delicious mushrooms about 4 days after that. They looked so beautiful and exotic growing in place, it was hard to cut them off the log!"
Rated "Best Flavor, Best Overall Value, too" by the Wall Street journal, GMHP's mushrooms kits are Certified Organic, easy to use and guaranteed to produce. GMHP's mushroom logs are specifically designed for in-home use, but produce the same top-quality fresh gourmet mushrooms used at many of the country's finest restaurants. The kits available at http://www.gmushrooms.com Organic Mushroom Kits are ready to send to anybody in the U.S. who enjoys growing, and then eating, fresh gourmet mushrooms in their home. Choose from Shiitake, Blue Oyster, Sonoma Brown Oyster, Trumpet Royale or the exotic Pom Pom Blanc Kit. Gourmet Mushroom Kits provide fresh, delicious, exotic mushrooms in your home or office - without the day hike or identification books!
Now Organic Plug Spawn is available for affordable, sustainable back yard cultivation of hardy gourmet and medicinal mushroom species: Shiitake, Maitake (Hen-of-the-Woods), Hericium (Lion's Mane), Ganoderma (Reishi), Blue Oyster, and Sonoma Brown Oyster. So easy to grow, Organic Plug Spawn is the perfect gift for mushroom lovers of all ages. Oganic Plug Spawn lets you cultivate mushrooms by inoculating logs in your yard with grooved birch plugs fully colonized by pure mushroom mycelium. Log cultivation is usually done with logs 4 - 6 inches in diameter with a length of 3 to 4 feet and each log can produce mushrooms for up to four years. Oak is particularly good for the cultivation of most mushrooms though many other species work well also: poplar, aspen, sugar maple, willow, alder and birch, among others. One of the best times for cutting the logs is in the fall or winter months for spring inoculation. Plugs may be stored in the refrigerator for up to six months.
The gift of good taste! Chef Bob Engel told GMHP: "Gourmet mushrooms are the newest addition to the chef's palette. Gourmet mushrooms have a natural savory character -- what chefs call umami -- which blends easily into a wide range of dishes." Now, anybody who appreciates fine mushrooms found in the wild (or inside five-star restaurants) can grow them in the comfort of their home! Fresh mushroom dishes also please vegetarians while the rest of the family gathers round the holiday roast.
GMHP has been providing unique Gourmet Mushroom organic growing kits and other quality products to the public for 21 years. All Components of GMHP Mushroom Kits are Recyclable as are all materials used to pack & ship the kits. Spawn Certified 100% Organic by Quality Assurance International.
# # #