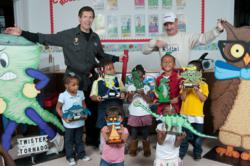 America's Best Bully Prevention program for children 2 to 8 yrs old
Philadelphia, PA (PRWEB) November 27, 2011
What do parents and schools do to teach children how to protect themselves from bullies, sexual predators and child abductors without scaring them?
Kidini Karate Bully prevention and child safety read along book & sing along music CD is the answer.
Children are introduced to eight (8) friendly characters - all members of the Kidini Team - each one uniquely skilled to recognize, avoid and escape troublesome or dangerous situations.
Through individual character lessons and easy to sing-a-long songs children are guided through the steps each member must take in order to stay safe.
Kidini is a fun, educational and interactive way to empower children with the knowledge that could someday prevent him or her from becoming bullied, injured or abused.
Schools, early learning centers and daycares can now host at their site Kidini Karate assemblies and Kidini Karate classes taught by certified instructors.
For more information on Kidini Karate assemblies, classes or the Kidini Book and CD, please visit the website http://www.kidinikarate.com
Kidini LLC
Kidini was researched by: Cooksy, L. J. & Egan, A. (2009). Helping Children Develop Self-Protective Skills: A Review of Guidelines and Programs. Newark, DE: Delaware Education Research & Development Center, University of Delaware.
Shihan Michael Graves received the Excellence in Teaching Martial arts Award and was inducted in the USA KARATE Hall of Fame, the Action Martial Arts Hall of Fame and has been tutoring parents and children about bully prevention and child safety for over 20 years. Michael has been seen on: CNN, ABC, CBS, Comcast, and Nickelodeon, Shape magazine, Edge magazine, Oxygen magazine, Nick Jr. The Miami Herald, The Philadelphia Inquirer, Delaware Today
# # #