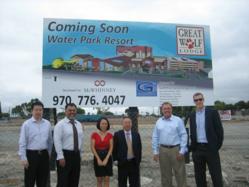 Thank you for efforts in hosting the workshop! I found it to be very informative and valuable!
Springfield, IL (PRWEB) November 26, 2011
Mr. Brian Su, CEO of Artisan Business Group, has announced a brand new small group one-on-one workshop on EB-5 investors procurement from China and Korea. The weekly EB-5 investment workshops will be offered at Artisan Business Group, Inc. Springfield Illinois headquarters. It provide timely and accessible information to professionals who are experienced with EB-5 and to those who are new to the program. The full day workshop is to be personally hosted and taught by Mr. Brian Su, CEO of Artisan Business Group, Inc., a leader in EB-5 investment consulting and business advisory services.
China surpassed South Korea in 2009, and became the leading EB-5 market in the world. Almost 2000 EB-5 visas were issued to Chinese investors in 2010. There are over 1500 EB-5 Visas issued to Chinese investors from Oct. 1, 2011 through end of May 2011. The interests continue to grow among Chinese high net worth individuals, however recent policy changes and new requirements imposed by Chinese authority have made EB-5 marketing more challenging and difficult for both US EB-5 Regional Centers and Chinese migration brokers. In addition to the regulatory changes, the marketplace is changing as well. There are increasing number of EB-5 Regional Centers that are entering China market at a rapid pace, the market is getting crowded and very competitive, it is very critical for regional center principals to learn how to effectively promote EB-5 projects in order to recruit qualified investors. Commercial real estate developers around the country have just realized the EB-5 capital a reliable and cheaper source of funding for their investment projects. "We have developed a much more focused program to educate project developers on how to secure foreign investors, especially investors and capital from China and Korea. The program is designed for small group executives to have in-depth discussions and interaction."
Real estate developers, EB-5 regional center executives or immigration lawyers should learn first hand about the investor trends and the ever-changing and challenging issues in the marketplace. The EB-5 Investors Procurement Seminar offers a rare opportunity for business developers to hear about every aspect of Chinese and Korean emigration business; and find out why some regional centers are selling quickly while some are not, the secrets will finally be revealed and exposed!
Mr. Brian Su, a leading expert in assisting US investment projects in Asian market, will share his insights and knowledge that Chinese emigration brokers do not want you to know!! Mr. Su will educate on Chinese investors really looking into when they make decisions! Finally, He will analyze the new policy changes and requirements and its impact on EB-5 marketing efforts in China market.
To see more details about the weekly workshop program, please log on http://eb5workshop.eventbrite.com
Press Contact:
Brian Su
Artisan Business Group, Inc.
http://www.EB5NewsBlog.org
# # #