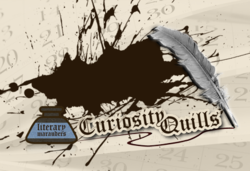 We're relying on YOU - the readers - to make the call. Your votes will help shape the future of Curiosity Quills Press.
Leesburg, VA (PRWEB) November 25, 2011
The Curiosity Quills Press team invites all aspiring authors who have completed a novel during NaNoWriMo (National Novel Writing Month) to enter their finished works in the NaNo-Virtuosos Competition on or before December 2, 2011.
Writing competitions crop up weekly across the Internet, but not many offer an exclusive publishing deal as a grand prize. NaNo-Virtuosos will run into early January of 2012, and after three rounds of voting and revisions, the final prize will be an exclusive publishing deal through the very same imprint. Secondary prizes include gift cards and professional editing services - all of which should make for an exciting holiday season.
Curiosity Quills Press Marketing Director, Lisa Gus, shares some words of encouragement with her fellow writers:
"You've been working hard this past month to stay disciplined and keep those word counts high," Lisa Gus says, "now it's time to take your baby to its next competitive stage. Send in your entry, gather feedback, and help us bring the best NaNoWriMo novels of 2011 to readers!"
Here are some important dates and competition prizes to keep in mind for the NaNo-Virtuosos Competition:
Round One:

Submissions close on December 2, 2011
Voting closes on December 16, 2011
Prizes (x10): induction into the Curiosity Quills NaNo Hall of Fame
Round Two:

Deadline for edits on December 19, 2011
Voting closes on January 2, 2012
Prizes (x5): Professional editing of first 10 pages + $25 Amazon gift certificate
Round Three:

Lisa Gus and the rest of Curiosity Quills Press hope to use these final days of NaNoWriMo to spread the word about NaNo-Virtosos and look forward to reading the entries.
"With hundreds of thousands of potentially brilliant novels being produced, it's going to be difficult separating the wheat from the chaff," explains Lisa Gus," but that's why we're relying on YOU - the readers - to make the call. Your votes will help shape the future of Curiosity Quills Press."
The NaNo-Virtuosos Competition is active, and ready to accept entries.
About Curiosity Quills Press
Curiosity Quills Press (http://curiosityquills.com), launched its independent publishing imprint in June, 2011 by writers, for writers, out of a common frustration with the state of publishing today. Instead of relying on readers to sift through the so-called "Amazon slush-pile", CQ presents a uniformly top-notch level of quality, tastefully curated, hard-hitting storylines, and memorable characters readers won't forget amidst their Kindle downloading sprees.
We know it's hard to stand out from the crowd when it's millions large, but Curiosity Quills Press helps level the playing field through its members' innovative social media approach, a transparent culture, and a deeply passionate team.
# # #