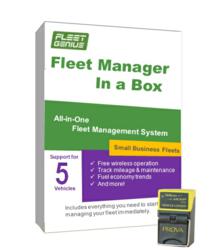 We've increased our fleet management intelligence and now we're able to track vehicle utilization and maintenance issues automatically and in a way that we've never been able to accomplish before," Mayor Justin Taylor, City of Carbondale, PA
Carbondale, PA (PRWEB) November 30, 2011
Prova Systems a leading developer of wireless OBD-2 VHM diagnostic vehicle monitors and trip loggers for vehicle fleet management systems is announcing the availability of its new Fleet Manager in a Box™ fleet management system. Fleet Manager in a Box is an all-in-one fleet management system for small business, local government and consumer users. The system features Prova's free-wireless data collection system that eliminates the monthly cellular fees incurred by GPS based fleet management systems enabling facilitating a quicker ROI for organizations eager to save on their spiraling fleet management system costs.
The product comes ready-to-install with Prova's OBD-2 vehicle diagnostic monitors and trip loggers. Fleet Manager in a Box includes Prova's Fleet Genius™ fleet management application for Windows PCs and one of Prova's drive-by or on-demand wireless Access Points for automated wireless data collection from managed vehicles. In 2, 5 and 10 vehicle fleet editions Fleet Manager in a Box expands to support fleets of hundreds of vehicles across global installations.
Fleet Manager in a Box enables fleet managers to collect and analyze critical information on the health and performance of their fleet vehicles to institute and manage preventive maintenance programs, diagnose and decode vehicle error codes (DTCs), analyze vehicle and fleet utilization, track and trend fuel economy and monitor driver behavior.
The system provides full trip based usage statistics, mileage and duration of each trip, average speed and max speed per trip, real engine idle time, estimated fuel usage and average MPG, out-of-hours usage and more.
'We created Fleet Manager in a Box to support the needs of the nearly 380k small business and local government fleets in the USA,' remarked John Collins, President of Prova Systems. ' With this new product smaller fleets can take reap the benefits of big fleet management tools at a fraction of the operating costs of competing technology. We calculate that an average 25 vehicle fleet will save at least $42,000 over 5 years versus GPS/AVL systems due to the elimination of monthly cellular fees using Fleet Manager in a Box.'
Fleet Manager in a Box works with all cars and light-duty vehicles manufactured since 1996 including hybrid and electric vehicles and is customer installable without requiring expensive professional installation; a fleet of 20 vehicles can be installed within an hour permitting smaller fleets to integrate big fleet system management features easily and quickly.
"We've been using Fleet Genius and Fleet Manager in a Box for the past several months in the City of Carbondale's police vehicle fleet,' noted Mayor Justin Taylor, Mayor of Carbondale, PA, 'we've increased our fleet management intelligence and now we're able to track vehicle utilization and maintenance issues automatically and in a way that we've never been able to accomplish before. We expect to expand to cover our Department of Public Works vehicles soon.'
Fleet Manager in a Box can be deployed in fleets with no existing fleet management systems and can also be used to replace expensive GPS based systems in sections of fleets that don't require minute-by-minute tracking. Each edition is designed to support the requirements of a small business, local government or branch operation.
The information collected by Fleet Management in a Box can be shared with Prova's Fleet Genius™ product or it can be integrated into third-party applications to take advantage of existing fleet management and asset management programs.
Fleet Manager in a Box is available for today from http://www.Fleet-Genius.com or from resellers worldwide.
ABOUT PROVA SYSTEMS: Prova Systems designs and manufactures wireless vehicle diagnostics systems for use in fleet management, drive-by emissions testing, secure access controls, usage based insurance programs and other critical commercial applications. Prova's line of wireless OBD-2 vehicle monitors, wireless sensors and analysis products capture real-time operational diagnostics for use in its own products and 3rd party products. The company focuses on aftermarket technology which make consumer and commercial vehicles safer, more fuel efficient and greener. The company is based in Carbondale, PA and sells its products directly and through resellers in the USA and internationally. http://www.ProvaSys.com and http://www.Fleet-Genius.com for more information.
###