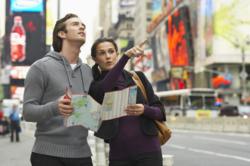 For less than the cost of a movie, you can give a truly unique experience
New York, NY (PRWEB) November 28, 2011
As the rush to find the perfect gift shifts into overdrive, the search is on for gifts that aren't just different, but ones that will capture the imagination of the recipient. Stray Boots urban games combine scavenger hunt-style puzzles and clues played across an area of a city to provide a gift that delivers an unforgettable experience at a price that won't break the bank: just $12 per ticket.
Stray Boots urban games take "players" on fun and engaging adventures, with their cell phone leading the way, through a choice of dozens of neighborhoods and museums in 13 American cities.
Urban games are easy to play and work by text message or smartphone web browser, so customers can use virtually any US cell phone. Players are guided with messages that include riddles, puzzles, photo opportunities and trivia questions as they visit the points of interest along the route. Each challenge earns players points and reveals fun facts about the area. The games are self-paced and flexible, so participants can stop for snacks, drinks, or do a bit of shopping along the way. Each game takes about two to three hours to complete and tickets are good for up to a year from purchase.
Stray Boots urban games make the giver a winner with a truly unique and exciting gift that's just right for the dad with too many ties, the hostess who's received one too-many bottles of wine or to get that video game-addicted kid off the couch for a few hours. They also make a perfect stocking stuffer, Secret Santa gift, or that special surprise for the 8th night of Hanukah.
Best of all, Stray Boots urban games are easy and affordable to give with the "Give a Game as a Gift" program. Givers simply order online and then have the option of printing out a certificate for in-person giving or sending their gift by email. This makes the games especially convenient for out of town friends and family. Givers don't have to live where they give – they can just email an urban game.
Stray Boots offers urban games in Boston, Chicago, Las Vegas, Los Angeles, Nashville, New York, Philadelphia, Portland (Oregon), New Orleans, San Diego, San Francisco, Seattle and Washington, DC. From jaunts into iconic museums, artisanal markets, historic neighborhoods and up-and-coming districts, Stray Boots' urban games offer something unusual for everyone on the "nice" list! Complete city and tour information can be found at Stray Boots' website.
"For less than the cost of a movie, you can give a truly unique experience," said Avi Milman, CEO of Stray Boots. "A Stray Boots urban game is a gift that offers a fun adventure that will be remembered forever."
What They Are Saying About Stray Boots Urban Games:
"Really fabulous way to entertain teens and their parents!" – Customer Review, Detroit, MI
"If you like "The Amazing Race" you'll love this!!!" – Customer Review – Fogelsville, PA
"Best Part of Our Trip - So fun, funny, and easy" – Customer Review, New Orleans, CA
"This will take you places you didn't know existed," – Customer Review, Pittsburgh, PA
"The most original fun I've ever had as a tourist" – Customer Review, Birmingham, AL
"A great way for you to explore our nation's capital and all you need is a cell phone." – Fox5 DC
"Stray Boots' scavenger hunts/city tours are an answer for tourists who want to sighstee without upping the nerd factor." – The Washington Post
"Great for families, these hunts are not timed, and each correctly answered clue is rewarded with a city fact." – NY Newsday
"The Game turns city exploration into an actually exciting neighborhood scavenger hunt played via text message" - Thrillist
About Stray Boots
Called a "Game Changer" by Fastcompany.com, Stray Boots was created to deliver the cure for the common tour. Stray Boots' interactive, cell phone-based urban games combine the fun of a scavenger hunt with the sights of a top-notch walking tour to challenge players as they see the city, learn interesting facts and have some fun along the way. Tourists and locals are giving Stray Boots' hunts rave reviews in Boston, Chicago, Las Vegas, Los Angeles, Nashville, New York, Philadelphia, Portland (Oregon), New Orleans, San Diego, San Francisco, Seattle, Washington, DC and London, England. Many more cities are coming soon. Stray Boots is the proud recipient of a TripAdvisor™ Certificate of Excellence. Stray Boots also offers private hunts for corporate team building and special events like birthday and bachelorette parties. For more information, visit our website.
# # #