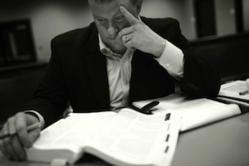 Hopefully the blog educates people, but they should always speak with a criminal lawyer one-on-one if they have specific questions or need specific advice.
Raleigh, NC (PRWEB) November 27, 2011
Raleigh criminal lawyer Damon Chetson announced the launch of an expanded criminal law blog covering topics ranging from DWI and felonies, to changes in North Carolina sentencing laws and constitutional law.
The expansion of the blog to include detailed articles on a variety of criminal law topics comes at important time given recent changes to North Carolina law and a series of important appellate and Supreme Court decisions affecting North Carolinians' rights.
In recent months, the blog has focused on enhancements to North Carolina's DWI sentencing law (N.C.G.S. 20-179) that increase the punishments available to repeat drunk driving offenders, recent appellate law that affect the way felonies are treated for purposes of federal sentencing (U.S. v. Sullivan, No. 08-4475), changes to North Carolina's sentencing, drug treatment, and probation laws (North Carolina Criminal Justice Reinvestment Act, (S.L. 2011-192 (H 642)), and recent Supreme Court opinions, including U.S. v. Jones (No. 10-1259).
"Our goal is to provide a comprehensive source of information that helps educates North Carolinians about their rights when they are being accused of a crime," said Damon Chetson. "Hopefully the blog educates people, but they should always speak with a criminal lawyer one-on-one if they have specific questions or need specific advice."
With approximately 10,000 unique readers each month, the NC Criminal Law blog has become a way that people can learn about changes to North Carolina criminal law, and also about constitutional decisions that affect their freedoms.
For instance, the blog has covered enhancements to North Carolina's DWI law that raises the possibility of up to three years in prison and up to $10,000 in fines in certain drunk driving cases.
The blog has also covered improvements in the way North Carolina handles first time drug offenses, including the expansion of North Carolina's drug diversion program (N.C.G.S. 90-96) that makes the program mandatory upon conviction certain types of drug offenses.
"Some of the changes are improvements," said Mr. Chetson. "Where in the past judges or DAs had discretion on whether to offer a drug diversion, today some of those people will automatically be enrolled into the program upon conviction, which will mean a dismissal of charges upon successful completion."
In the past three years, the Supreme Court has handed down decisions that significantly affect Americans rights against unlawful search and seizure. The blog has covered some of the most important changes, including Arizona v. Gant (129 S. Ct. 1710 - 2009) which, according to court documents, involved a warrantless search of a vehicle incident to arrest where no probable cause existed for the search.
"Obviously no one should rely merely upon a blog for information on how to handle a case," said Mr. Chetson. "They should consult with a Raleigh criminal lawyer or Raleigh DWI attorney to find out how best to handle their case."
Disclaimer: While The Chetson Firm works hard to achieve the best possible results in every case it handles, no outcome can be guaranteed. Past results do not guarantee future results. Each case is different. If you are facing a criminal investigation or arrest, seek the immediate assistance of a criminal lawyer licensed in your state. The Chetson Firm's lawyers are licensed to practice in the state courts of North Carolina and in the federal courts of the Eastern District of North Carolina.
###