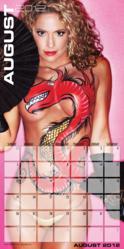 Miami, Florida (PRWEB) November 28, 2011
One of the biggest seasonal holiday dilemmas is what to give others for their gifts. Jennifer Nicole Lee's one of a kind 2011-2012 Body Paint calendar solves this holiday gift giving headache, by offering something that's exclusive, a limited edition, a collector's item, and one that will motivate all year long.
Jennifer Nicole Lee and her [Fitness Model Factory production team went above and beyond to create what some would call 'priceless art', yet sold for one on a budget. This production took JNL and her team over 110 hours of complete total body painting hours, over the span of 8 months, taking three different photographers to complete. Designed in an innovative junior size poster layout, this eye popping, visual master piece pushes the envelope, even making the Sports Illustrated Body Paint photos a bit boring.
The themes of the 16 month calendar span the full range of the artistic creations from sports, candy, flowers, butterflies, mermaid, soccer, football, and even an Asian sensation with fan and a body painted red lizard that would make the lady with the dragon tattoo even jealous.
For more info, visit http://www.ShopJNL.com
###