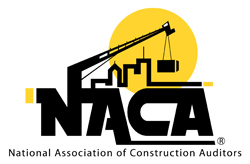 "Messrs. Steinkamp and Sier's wealth of knowledge and experience," states NACA Chairman & Founder, Brian Felix. "adds incredible breadth and depth to our Advisory Board."
Midlothian,VA (PRWEB) November 27, 2011
National Association of Construction Auditors (NACA) (http://www.thenaca.org) is excited to welcome Mr. Neil Steinkamp, AVA, CCIFP, CCA and Mr. John M. Sier, to its Advisory Board.
Neil Steinkamp is a Director in the Dispute Advisory & Forensic Services Group at Stout Risius Ross (SRR). He has extensive experience providing a broad range of business and financial advice to trial lawyers and in-house counsel throughout the dispute process, including matters involving breach of contract, tortious interference, disputes related to business transactions, post-merger and acquisition disputes, employment and compensation disputes, personal economic damages, bankruptcy, eminent domain, divorce, shareholder disputes and construction claims.
John Sier concentrates his practice in dispute avoidance and resolution of commercial, health care and construction contract issues as the head of Kitch Drutchas Wagner Valitutti & Sherbrook's construction and commercial litigation group. In the construction industry, Mr. Sier has experience in analyzing legal aspects of various project delivery methods including drafting construction contracts as well as assisting in dispute resolution and project completion.
The Advisory Board was formed to seek out experts in the fields of construction management and risk, auditing, real estate development, contract/construction law, architecture, and engineering to help serve the association and its members by providing expert counsel and guidance.
"Messrs. Steinkamp and Sier's wealth of knowledge and experience," states NACA Chairman & Founder, Brian Felix. "adds incredible breadth and depth to our Advisory Board."
Mr. Steinkamp has lectured and presented continuing education seminars on the subject of litigation advisory services, financial modeling, and financial risk components. He is currently a member of the American Bar Association (Litigation Sections and Construction Litigation Committee), Construction Financial Management Association, Association of Certified Fraud Examiners, Original Equipment Suppliers Association, and Society of Automotive Analysts. He is also a former member of the Board of Directors for the Detroit Chapter of the Construction Financial Management Association and former member of the Board of Directors of the Construction Specifications Institute (Metro Detroit Chapter). He has also served on the MACPA Construction Industry Task Force. He is also a member of the NY/NJ Chapter of the NACA.
In addition to being a Certified Construction Auditor, Mr. Steinkamp is an Accredited Valuation Analyst and a Certified Construction Industry Financial Professional. He graduated with a B.A. from the Honors College of Michigan State University (Magna Cum Laude). Neil has provided expert testimony and has a vast experience with contributing to industry publications and speaking at industry events.
Mr. Sier has published articles and presented seminars on construction, health care and commercial issues across the country. Following his graduation from Drake University Law School and Graduate School in 1986, he established his practice in Detroit, Michigan, from where he continues to serve clients in various parts of North America. In addition to being a Certified Mediator and on the AAA Panel of Construction Neutrals, he is active with several organizations, including the State Bar of Michigan, Iowa Bar Association, Detroit Metropolitan Bar Association, Catholic Lawyers Society, Associated General Contractors, Construction Association of Michigan, Construction Specifications Institute, Building Owners and Managers Association of Metropolitan Detroit, Construction Owners Association of America and the Engineering Society of Detroit. He also serves on the boards of some Detroit-area educational and charitable organizations, and he has received awards from several of the organizations in which he participates.
As stated on their website (http://www.thenaca.org), the NACA mission is to unite those individuals and be recognized as the authority on construction project controls. "Our vision," explains Brian Felix "is to bring all the project team members together to exchange knowledge and ideas to improve the overall control environment for the Owners, delivering them greater value."
The NACA grants the designation of Certified Construction Auditor (CCA) and Construction Control Professional (CCP) to the individuals with the expertise in these areas. The National Association of Construction Auditors is committed to providing resources, information, and leadership for NACA members, their clients, and the public to ensure the highest standard of construction controls possible. For a limited period of time, the National Association of Construction Auditors (NACA) is currently accepting applications under the grandfathering provision for the Certified Construction Auditor (CCA) and Construction Control Professional (CCP) designations, setting the standard in these fields (http://www.thenaca.org). The provisions are a point-based system based upon education, training, and experience.
The National Association of Construction Auditors' inaugural Annual Conference was a huge success!
Over 160 attendees participating in sessions related to the control environment of construction projects, fraud, government contracting, and ethics. Attendees represented a wide variety of firms in the construction, auditing, and accounting industries.
For those interested in purchasing copies of the 19 presentations from the 2011 NACA Conference, go to the website's (http://www.thenaca.org) PAYMENT page and click on "NACA 2011 Conference Materials $295".
###