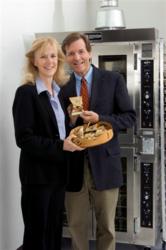 Omega3 Innovations is revolutionizing the medically enriched food industry by testing the products to make sure they have a clinically effective impact.
Venice, Florida (PRWEB) November 30, 2011
Ambo Foods, LLC has consolidated its products and websites to become Omega3 Innovations, creating a new way of ordering the Omega Cure, Omega Cookie, and other omega-3 products.
Focused on customer convenience, Omega3 Innovations provides the same excellent service at a one stop source. Omega3 Innovations hopes this will make it easier and more enjoyable for customers to learn about the health benefits of omega-3 fish oil and soluble fibers.
"The new name better reflects our area of expertise and our novel approach to helping people change their health," said Anne-Marie Chalmers, MD, co- founder of the company.
The name change also reflects the company's core values. Omega3 Innovations wants consumers to know that the products not only contain superior omega-3 fatty acid nutrition, but also essential nutrients like oat fibers found in the Omega Cookie. Consumers can get an adequate dose of omega-3 in one Omega Cookie, the same 2000 mg EPA/DHA dose prescribed by the American Heart Association.
Omega3 Innovations is revolutionizing the medically enriched food industry by testing the products to make sure they have a clinically effective impact on triglyceride levels, blood pressure, omega-3 index levels and other important lipid perimeters. Processed ingredients like trans fats, high-fructose corn syrup and preservatives are eliminated from all products. All Omega3 Innovations products are also low on sugar for diabetics and weight conscious individuals.
"The two most recommended dietary supplements, omega-3 fish oil and soluble fibers, are an extremely effective duo in reducing the risk of heart disease and controlling food cravings," said co-founder Bo Martinsen, MD.
Omega3 Innovations was founded on the principle that getting enough omega-3 should be practical and enjoyable. With that idea in mind, the company produced Omega Cookie, which provides a high dose of omega-3 is a single cookie serving. Omega-3 Innovations is also the maker of Omega Cure, a liquid omega-3 that can be added to salad dressings, juice, and even ice cream.
Comparable omega-3 products, such as capsules, often require the consumer to take many servings to get an adequate dose, said Dr. Chalmers. For instance, to achieve the anti-inflammatory effect and cardiovascular benefits cited in research studies, people need to take 2000 to 4000 mg of the fatty acids found in fish oil, or 7-8 omega-3 fish oil capsules every day.
For more information about Omega-Cure and Omega Cookie, please visit http://www.omega-cure.com and http://www.omegacookie.com. Omega3innovations.com is still under construction.
About Omega3 Innovations
Omega3 Innovations is a physician-directed company with headquarters in Venice, Florida. It was founded by Bo Martinsen, MD a native Norwegian and Anne-Marie Chalmers, MD an American who studied and lived in Norway. Both physicians have extensive clinical and research backgrounds.The company was named a winner in the category of innovation at the 2010 annual Economic Development Corporation of Sarasota County's Hall of Fame awards. The honor came as the result of being the first company to create a bakery product that contains an effective dose of omega-3 fish oil. All cookies are baked in their facility in Venice.
For more information about this release, please contact:
Sean Duade at 941-485-4400 or Dr. Chalmers at achalmers(at)omega-cure(dot)com
###