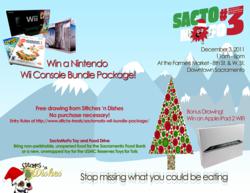 Chris Jarosz is one of the most innovative, creative and talented restaurateurs I've met, said Ford.
San Francisco, CA (PRWEB) November 28, 2011
Stitches 'n Dishes is California's only network of vendors, venues and their fans, providing news, schedules, reviews, high-quality photography, video and media coverage on its website. The blog site will sponsor SactoMoFo3, a full-day mobile food festival at the Farmers Market on 8th St. and W St., in Downtown Sacramento, CA on December 3, 2011 from 11:00 a.m. until 6:00 p.m. Founders, Christopher Ford and Andrew Nicora announced that Stitches 'n Dishes will award a Nintendo Wii game console, including Super Mario Bros, Food Network's Cook or Be Cooked!, Order Up! and a Wii Cooking Set, a $250 value, in a no-purchase-necessary, free drawing.
Ford published a review about Jarosz' wicked sandwiches on the Stitches 'n Dishes blog site in October. "We couldn't be more excited about Wicked 'Wich at this amazing event. This truck is a night club on wheels, fully equipped with LED screens, exterior speakers and a state of the art sound system. People flock to this truck for its creative design alone, but the food is phenomenal," said Nicora.
"We're not fad food," said Jarosz. "We cook with heart, passion and instinct, and offer something unique and interesting. We offer things you won't find anywhere and use only fresh products. Nothing is frozen; not even the fries."
Restrictive Sacramento City Ordinances prevent food trucks from effectively serving curbside by prohibiting parking on the street for more than 30 minutes. SactoMoFo, a volunteer organization is aimed at effecting change in City Council to permit food trucks and food carts to operate on city streets for longer than 30 minutes. While most food truck operators compete for limited space to serve their fare in parking lots, Jarosz and his Wicked 'Wich have brewed up an innovative "food truck" spin on some tried and true concepts to expand his business and beat the odds.
Wicked 'Wich (http://www.wichonwheels.com) is the first mobile food truck to incorporate the use of a chase car in its service offering. The chase car, wrapped in its wicked insignia, a miniaturized version of its Mother Truck, will bring street food directly from the truck to the front door, the office or a conference room. "When people can't get away for lunch at their favorite food truck, we'll bring it to them," said Jarosz. He will begin offering delivery service via the Li'l 'Wich chase car in December.
A multi-billion dollar industry, prepared meal delivery service is typically associated with brick and mortar restaurants. In 1988, Takis Zarikos and Constantine Stathopoulous introduced Waiters on Wheels, a concept that revolutionized prepared meal delivery, and conceivably became the fathers of today's food truck phenomenon. Prior to the launch of Waiters on Wheels, delivery options were limited to pizza and Chinese take-out. Waiters on Wheels introduced the concept of bringing gourmet meals directly to the consumer.
The food truck explosion introduced yet another concept to consumers – gourmet meals prepared curbside. Prior to gourmet food trucks, consumers were limited to traditional "roach coaches" found behind factories and on construction sites. Food trucks bring restaurant-prepared meals curbside, and the concept has become a national phenomenon, inspiring the popular Food Network television show, The Great Food Truck Race, and has made national headlines in exponential proportions over the last two years.
Wicked 'Wich is also the first food truck to offer drive through service during rainy days. Jarosz concocted the idea during a drizzly afternoon lunch break. The business-savvy restaurateur partners with businesses and shares parking lot space to accommodate drive-thru customers as they pull up along-side the crimson witch to place orders.
"Chris Jarosz is one of the most innovative, creative and talented restaurateurs I've met," said Ford. "He's facing Sacramento's prohibitive street vending ordinances head on, and spearheading solutions for a very challenged market. He's effectively found a way to bring two proven mobile food concepts to the food truck platform, and he's using them effectively to expand his business, despite the barriers to entry to the street food market in Sacramento."
Bringing together Northern California's best epicureans on wheels, SactoMoFo presents SactoMofo 3 in Downtown Sacramento. The single-day food festival that introduced the mobile food phenomenon to Sacramento brings its third and largest festival, featuring tantalizing cuisines by local food trucks and stands, as well as exceptional food trucks from one of the best culinary destinations in the country, if not the world - San Francisco.
A convoy of eight of San Francisco's best food trucks including Chairman Bao, JapaCurry, Hapa SF, El Porteno, An the Go, as well as Seoul on Wheels and Bacon Bacon, voted in the Top Ten Food Trucks in San Francisco by the Chase Sapphire Visa Signature Eater's Choice Awards will join the event, making it the largest and most diverse mobile food festival in Northern California.
Also featured at the event are Sacramento's leading food trucks, including Mini Burger, Chando Taco's, Wicked 'wich, Heavenly Dog's, Simply Southern Foods / It's Corn Cake, Cajun Wagon, La Peidad, Volkswaffle, Smoothie Patrol, Fuzion Eatz, LLC, Swabbies, Leila's Lumpia, Esther's Cupcakes and Food Network's Great Truck Race contender, Drewski's.
SactoMoFo 3, benefiting the USMC Reserves Toys for Tots and the Sacramento Food Bank is a free event. Parking is also free. Attendees are encouraged to bring a new, unwrapped toy and/or unopened, non-perishable food items for the toy and food drives.
About Stitches 'n Dishes:
Stitches 'n Dishes, the creation of Christopher Ford and Andrew Nicora, and inspired by "Stitch", an American Staff. Terrier mix / Bichon Frise, provides marketing, advertising and PR services to the mobile foods industry and it provides consumers with a single source for original articles, reviews, food photography, California fairs and events, discounts, contests and giveaways.
Stitches 'n Dishes is California's first provider of a platform that stitches a link between food lovers, entertainment venues and mobile food operators, and the first fully dedicated marketing, advertising and development resource available to food vendors in California.
###