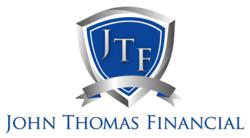 (PRWEB) November 26, 2011
Thomas Belesis, CEO of John Thomas Financial, appeared on Fox News' weekly business analysis program Bulls & Bears on November 19, 2011 to discuss the potential consequences of the failure of the congressional "super committee" to reach a deal to cut $1.2 trillion in government spending. The committee of 6 democrats and 6 republicans was unable to come to an agreement.
Belesis, who is recognized as a job creator for the growth of John Thomas Financial and serves as Co-Chairman for the New York State Republican Finance Committee, was invited on the program alongside Gary B. Smith, Jonas Max Ferris, Scott Martin and Steve Murphy.
Belesis expressed the sentiment that confidence in our economic system was low because of uncertainty in Washington and that he hoped a deal would be reached to spark hiring.
For timely insights, news, and commentary on economics and financial markets, visit the JTF Blog or join the John Thomas Financial community on Twitter, Facebook and Google+.
About John Thomas Financial
John Thomas Financial, a member of FINRA and SIPC, is an independent broker- dealer and investment-banking firm headquartered in New York City's Wall Street district. Emphasizing a client-centric approach to managing all aspects of its business, John Thomas Financial and its affiliates offer a full complement of retail brokerage, private wealth management, and corporate advisory services tailored to the unique needs of its clients. The firm publishes the Fiscal Liquidity Index a unique daily indicator that looks at government spending and its impact on the financial markets, as well as John Thomas Financial Economic Outlook, a research report analyzing consumer sentiment, market outlook, credit cycles and dozens of other market influences. For more information on the firm, please visit:http://www.johnthomasfinancial.com.
###