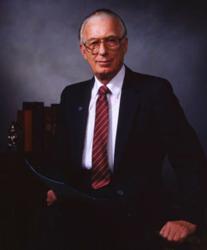 "Mr. Meijer's generosity, from the beginning of Grand Valley's history, has been critical to our success and has helped make us the university we are today. Our hearts are with the Meijer family" - Thomas J. Haas, President
Allendale, Mich. (PRWEB) November 26, 2011
Leaders at Grand Valley State University and in Michigan are mourning the passing of former Chairman Emeritus of Meijer, Inc., Frederik "Fred" G. H. Meijer on November 25, 2011. Meijer was a successful businessman and generous philanthropist who cared deeply about the Grand Rapids and West Michigan community. Throughout his life he made many contributions that helped local medical institutions, educational facilities, and nature preserves.
He was 91.
Upon learning of his death late Friday night, university officials expressed their sympathy to the Meijer family.
"As a university community we deeply regret the loss of Fred Meijer," said university President Thomas J. Haas. "Mr. Meijer's generosity, from the beginning of Grand Valley's history, has been critical to our success and has helped make us the university that we are today. Our hearts are with the Meijer family."
Jeff Chamberlain, head of the Frederik Meijer Honors College, also expressed his condolences. "The Frederik Meijer Honors College won't be the same without Fred Meijer's regular contact with our students, faculty and staff," he said. "He was an incredible supporter of our programs and our students, but more than that, he was our friend. We will deeply miss him."
Mr. Meijer also had close ties to WGVU Public Television and Radio.
"Grand Valley's public television and radio stations broadcast from the Meijer Public Broadcast Center at Grand Valley State University," said Michael T. Walenta, general manager at WGVU. "Fred's support for PBS and NPR has enriched the lives of everyone who watches television and listens to radio in West Michigan. We will be forever in his debt."
Meijer was a faithful Grand Valley supporter. His generosity had a major part in making construction possible for the Richard M. DeVos Center, GVSU Meijer Campus in Holland, and Cook-DeVos Center for Health Sciences.
A member of the Advisory Cabinet for The Grand Valley University Foundation, Meijer was a university supporter since the early days of the school. He generously gave to help create the Eberhard Center and the Meijer Public Broadcast Center, the building from which WGVU broadcasts its public radio and television stations.
After donating land to help create the Grand Valley State University Meijer Campus in Holland, he became a member of the "Land Barons." Under the leadership of Richard M. DeVos, this small group of philanthropists helped secure land and funding for the Grand Design 2000 Campaign. Meijer's dedication to the project helped Grand Valley expand its downtown Grand Rapids campus and the Eberhard Center.
In September 2003, Meijer's commitment to the construction of the Cook-DeVos Center for Health Sciences in downtown Grand Rapids was recognized with the naming of the Meijer Family Floor. His gift helped ensure that education would join health care research and delivery as a cornerstone of the emerging health enterprise in Grand Rapids.
In 2005, Grand Valley State University was able to acquire the papers of internationally acclaimed writer and Michigan native, Jim Harrison. The purchase was aided by funding from Meijer. In recognition of his gift, the University established the Frederik Meijer Center for Writing and Michigan Authors.
In October 2008, Grand Valley honored Meijer and his years of charitable support with the university by naming the Honors College the Frederik Meijer Honors College.
"This university has been a symbol of excellence, not just here in West Michigan but nationwide," said Meijer upon the announcement. "We hope that through this Honors College and our support, we have an opportunity to assist young minds and help them achieve their goals."
Most recently, The Meijer Foundation made a generous commitment to the L. William Seidman Center at GVSU.
Meijer was recognized as one of the university's Grand Stewards in June, 2011.
To honor his distinguished career as a successful businessman and community leader, Grand Valley State University awarded Meijer an honorary doctor of humane letters degree in 1982. In 1986, Meijer was a Grand Valley State Hall of Fame Honoree. Ten years later, in 1992, the Economic Club of Grand Rapids named him their Businessperson of the Year. Most recently, in 2004, he received the Business Direct Weekly 30 over 60 Leaders Award.
###