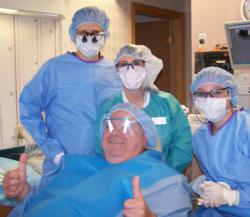 The CAS system is an amazing gift for patients who were not previously eligible or who needed complex multiple and expensive surgeries in the past for dental implants, said Dr. Korwin
Middletown / Red Bank, New Jersey (PRWEB) November 28, 2011 (PRWEB) November 28, 2011
Dentistry is a complex specialty requiring years of intense training to master. The Crestal Sinus Lift Surgery technique and course sponsored by HIOssen and taught by periodontist Dr. M. Alexandre Cho has enabled Dr. Robert Korwin to more effectively diagnose and intercept dental implant problems and treat them.
Dr. Korwin was invited to attend this course by Alper Senman Territory Manager at Hiossen /Osstem. The course was taught in Jenkintown, Pennsylvania on October 28, 2011 and included didactic reviews of predictably successful sinus grafting, and practice model surgeries.
Sinus lift surgery is used to increase the amount of bone which holds implants in the upper jaw. Traditional methods have complications including tears in the sinus membranes, additional second surgeries, or abandoning the planned procedure at surgery.
The safe, crestal approach sinus augmentation utilizes special CAS instruments which safely perform sinus lifts without the risk of membrane tears. Safe ended, side cutting burs and a hydraulic lift are used to gently elevate the membrane, and allow graft material introduction into the sinus, and distribution using specialized tools. A unique vertical stop system allows precise depth control during surgery.
The CAS system is so precise, that an amazing demonstration using a raw chicken egg showed that multiple holes could be prepared completely through the egg shell, without disturbing the membrane and raw egg contents within.
Now, dental implant sites that were previously thought to have too little bone for conventional techniques can be now be safely prepared, and grafts and implants immediately, painlessly and inexpensively placed in a single visit.
Patients who would like implants can have a free consultation, and can obtain further information, by visiting http://www.drkorwin.com or by calling (732) 219-8900.
About Our Practice:
Robert Korwin DMD, MICOI, MAGD is a renowned general dentist, teacher and innovator practicing in Middletown and Red Bank, NJ. With extensive academic, clinical and didactic training, he is one of only a handful of dentists worldwide who have dual Mastership awards from The Academy of General Dentistry and The International College of Oral Implantologists. Dr. Korwin promotes excellence in preventing orally linked disease and provides highly cosmetic dental repair and reconstruction utilizing orthodontics, implants, surgery, prosthetics and sedation, with laser, digital and computer assisted diagnostics. The practice works with patients to maximize their dental health, ensure their comfort and minimize financial concerns. For the last thirty years we have emphasized the importance of the link between oral bacteria and systemic disease. To diagnose this hidden problem, our family of patients has always been screened at every visit for the presence of periodontitis. More evidence is being published about the correlation between periodontal inflammation and systemic disease, and it is highly important to bring this information to the public. We have a long record of interceptive and preventive oral health care and we are pleased to help control and prevent oral disease.
###