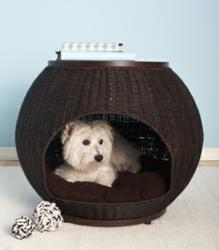 "Our lines have the style found at a designer furniture store with the features pets want and need," said Josh Feinkind, owner
New York, NY (PRWEB) November 29, 2011
The holiday season brings families together and frustration for pet lovers. With the arrival of holiday guests, they wrestle with hiding unattractive and cat and dog beds while keeping their feline and canine friends fanciful and frisky.
The Refined Feline and The Refined Canine have solved this dilemma with a line of pet products to blend with the trendiest of homes while giving pets their place for recreation and relaxation.
For Dogs:
The Igloo Deluxe Pet Bed is the answer to the unappealing dog bed. Doubling as a stylish end table, the Igloo Deluxe gives dogs and cats an enclosed space to call their own. Made of natural rattan with a wood top and bottom, guests may not even realize it's a home for the family pet. Cat Fancy has recognized it with its Editor's Choice award. Retail price : $99.99 to $149.99.
The Indoor/Outdoor Dog Day Bed looks great indoors and out. Made of durable plastic wicker and includes a plush cushion for a comfy place the family dog can call his own. When the weather warms, its waterproof material makes it a perfect outdoor dog bed. Comes in multiple sizes. Retail price: $64.99 to $149.99.
For Cats:
Cat Fancy has awarded the Kitty Ball Bed as a top holiday pick. Favorite felines can lounge at ease in the elegant Kitty Ball Bed available in rattan or bamboo. A cat bed with class, its dome shape is conducive for curling up and napping on the tufted, machine washable cushion. Cat parents no longer have to hide a rainbow colored fluffy cat box when family arrives for dinner. Retail price: $99.99 to $149.99.
The Refined Feline's top seller is the Lotus Cat Tower. Part cat tower, part work of art, the Lotus replaces the ugly shag carpet towers of old. Standing six feet tall and includes replaceable sisal scratch pad, plush cushions, and carpeted platforms, the Lotus is the ultimate cat tower.
"Holidays can be a little chaotic and so we wanted pets to be able to relax in their own space while their family entertains guests" said Josh Feinkind, owner. "Our lines have the style found at a designer furniture store with the features pets want and need. Our beds and towers make a great additions to a cat or dog lover's living room."
TheRefinedFeline.com and TheRefinedCanine.com are divisions of New York City based RefinedKind Pet Products.
###