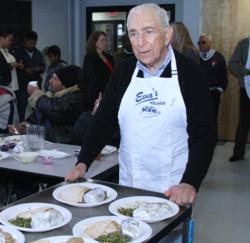 "I always look forward to visiting my home city of Paterson and working with the volunteers and staff at Eva's Village to help those who are struggling have a nice Thanksgiving meal."
Paterson, New Jersey (PRWEB) November 28, 2011
Among the many volunteers who return year after year to serve the Thanksgiving meal at Eva's Kitchen are a few who are more familiar than most. As he served the hundreds of hungry men and women seated in Eva's spacious new dining hall, Frank R. Lautenberg, United States Senator for New Jersey paused to say, "I always look forward to visiting my home city of Paterson and working with the volunteers and staff at Eva's Village to help those who are struggling to have a nice Thanksgiving meal."
Also serving at Eva's Kitchen again this year, just as they have for many previous years, were Robert Menendez, fellow United States Senator for New Jersey, Congressman Bill Pascrell, representing the 8th District of New Jersey, Assemblyman Thomas P. Giblin, representing New Jersey's 34th District and Julio Tavarez, Paterson's 5th ward councilman. Joining these familiar New Jersey politicians this year was Jeffery Jones, Paterson's newly elected mayor. "Thanksgiving is a time when we set aside our troubles and our differences to reach out to those in need. Soup kitchens like Eva's Village are the open, welcoming communal tables that bring us together as a community," states Senator Menendez.
Eva's Kitchen, the soup kitchen program at Eva's Village, New Jersey's most comprehensive anti-poverty organization, serves a hot lunch every day, 365 days/year. Thanksgiving is no different than any other day, except that the clients are served by their senators, congressmen and mayor in addition to many other dedicated volunteers from the community. The Market Basket, a gourmet food concern based in Franklin Lakes and Wyckoff, New Jersey, has donated the food for the meal including turkey with all the trimmings for many years.
"Eva's is so grateful to all our volunteers who come every Thanksgiving, when they could be at home on this special family day — it is wonderful that they find time in their busy schedules to push up their sleeves and serve the needy on Thanksgiving", states Sister Gloria Perez, Executive Director at Eva's Village.
Eva's Village draws so many high profile politicians for a number of reasons, including the comprehensive programs provided by this anti-poverty organization, it's consistently high rating by Charity Navigator, and the fact that they treat their clients with dignity. Diners are served at their tables by volunteers, rather than being herded into a "chow line". Among other traditions created in the thirty years Eva's Village has served Thanksgiving dinner to the hungry of New Jersey is a tradition for government officials to volunteer their time to serving those struggling to survive in New Jersey.
But the support of New Jersey's politicians does not stop with volunteering. Senators Menendez and Lautenberg were strategic in helping Eva's Village receive a 2010 appropriations request to expand their New Jersey soup kitchen to better serve the increasing numbers that come every day for the hot noon meal served to hundreds (a 20% increase from 2007 – 2010). The expansion was recently completed increasing the capacity from 240 to 400. "Eva's Village does tremendous work providing services and care for some of the most hard-pressed individuals and families in Paterson and throughout the state", states Senator Lautenberg.
Founded by Msgr. Vincent E. Puma in 1982 as a response to the poor and homeless in Paterson, New Jersey, Eva's Village (http://www.evasvillage.org) is a non-profit comprehensive social service organization with a mission to feed the hungry, shelter the homeless, treat the addicted and provide medical and dental care to the poor with respect for the human dignity of each individual. Through almost three decades of service, Eva's Village has established a commendable record in facing community challenges and changing the lives of the hungry, homeless and addicted. Eva's Village has grown from a simple soup kitchen to become the most respected anti-poverty program in the state of New Jersey and now includes fourteen integrated programs housed in numerous buildings spanning several city blocks in downtown Paterson.
To learn more about Eva's Kitchen and all the programs at Eva's Village, or to donate or volunteer, visit http://www.evasvillage.org. Eva's Village has been awarded the highest rating (four stars) for five consecutive years from Charity Navigator, America's premier independent charity evaluator, indicating the organization adheres to good governance and other best practices that minimize the chance of unethical activities and consistently executes its mission in a fiscally responsible way.
###