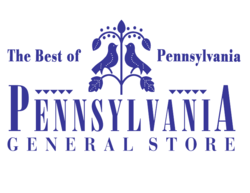 "We'll ship more than four tons of Pennsylvania-made chocolate-covered pretzels as gifts this holiday season."
Philadelphia, Pennsylvania (PRWEB) November 27, 2011
A tasty holiday gift of Philadelphia and Pennsylvania-produced food shows good taste and shares local pride. A gift from Pennsylvania General Store also supports dozens of local specialty food manufacturers, many operating within Philly's city limits.
Located in the city's historic Reading Terminal Market for nearly 25 years, Pennsylvania General Store is known for its extensive selection of Pennsylvania-made specialty foods. Local favorites that range from Philadelphia gift baskets to traditional Pennsylvania Dutch items to fine chocolates are enjoyed by city shoppers and visitors, and shipped year-round to food lovers far beyond state borders.
"We've estimated that we'll ship more than four tons of chocolate-covered pretzels as gifts this holiday season," said Michael Holahan, owner of Pennsylvania General Store and president of the Reading Terminal Market Merchants' Association. To highlight Philadelphia's rich history of chocolate making, Pennsylvania General Store is offering two exclusive items priced under $30 that showcase local confectioners:

This yummy combination of milk chocolate studded with pieces of popcorn, caramel, marshmallow and nuts makes a fine gift for lovers of traditional scrapple as well as anyone who enjoys sweet, crunchy, one-of-a-kind treats. A full pound fills a white gift tin featuring the Chocolate Scrapple piggy logo and is wrapped with red ribbon.
Available for the first time, an elegant, mouth-watering sampler of traditional favorites such as butter creams, chocolate marshmallows, toffee, peanut butter smoothies and Wilbur Buds, along with Artisan Chocolate Truffles and Sea Salt Caramels - all made by some of Philly's longest-operating chocolatiers, such as Ashers, Zitners and Lores, along with newer ones, including Chester County's Eclat and Neuchatel Chocolates. A handsome brown "Philadelphia Chocolate Collection" logo box tied with gold ribbon contains 14 oz. of chocolates.
Gifts can be purchased in-store, online or toll-free at 1-800-545-4891. Pennsylvania General Store also operates a holiday retail store at its Manayunk warehouse, located at 228 Krams Avenue.
###