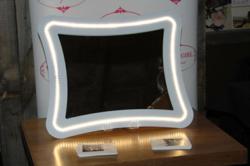 We were very honored that Vanity Girl chose to give our attendees an insider's look at its new LED portable vanity before it has even hit the market - Renee Anzaruth
Events & Marketing
Spaphile
Santa Monica, CA (PRWEB) November 28, 2011
In spite of the rain last Sunday, over 150 beauty insiders, media, bloggers and cosmetic junkies in Los Angeles turned out for the Spaphile|JewelMint|Pose event and received a variety of beauty treatments, refreshments and of course, the all-important swag bag.
Vanity Girl Hollywood teamed up with Makeup Mandy aka Lash Bar to the Stars and provided lashes and mini makeovers to attendees in one very glamorously lit corner of the Tiato venue in Santa Monica.
"Guests getting their makeup and lashes done looked like movie stars getting ready on set," said Renee Anzaruth, Event & Marketing Coordinator for Spaphile. "And we were very honored that Vanity Girl chose to give our attendees an insider's look at its new LED portable vanity before it has even hit the market."
The white vanity was a prototype, literally right from the manufacturer's Los Angeles factory and the young company was able to get feedback from the savvy beauty audience on its new offering.
Social media allowed people to weigh in with their feedback even if they weren't present at the event. Twitter, Facebook and good old fashioned text enabled beauty lovers everywhere to participate.
Makeup Mandy offered guests one-day Party Lashes and weeklong lashes. Erica Pepper headed up the "lashers" and they used a Silver Starlet mirror to ensure proper lighting for lash application. VGH makeup artists Crystal Strayer and Lisa Nunez used makeup provided by Makeup Mandy including their new colored lash serum to do mini-makeovers once lashes were applied and were lit by the Black Broadway Vanity.
Vendors included: Aveda Institute Los Angeles, Beallacures, Makeup Mandy, JewelMint, Loving Eco, Better You and Vanity Girl Hollywood.
Tiato offered food specials such as Crispy Chicken Rolls, Grass Fed Burgers and Spicy Tuna Tacos. And on a rainy day like that Sunday, the Grilled Cheese & Tomato Soup was a crowd favorite.
"This pop up beauty event was such a fun way for us to get some feedback on our portable LED Vanity before we bring it to market," said Maxine Tatlonghari, Chief Vanity Girl. "We're really excited to finally offer something portable and more economical to our customers."
According to Elena Greco, Director of Brand Relations with Beautylish.com, this is a good strategy for Vanity Girl Hollywood. "It's important for both new and existing brands to build a relationship with their consumers. With so many product choices available, consumers are researching their options more closely prior to making a purchasing decision." She says that customers are not only deciding whether or not a product is right for them, they are looking to see if they can relate to the brand. "In the beauty arena, it's all about an emotional connection," says Greco.
Expected Features on the LED Vanity include:
-Lightweight (under 8 lbs)
-Signature dimmable lighting
-Portable
-LED bulbs save energy
-Cool to the touch
-Extremely long lasting bulbs
-Low voltage, may be able to plug into car with a 12 volt connection
-Expected retail price $159
About Vanity Girl Hollywood:
Launched in 2008 by fundraiser-turned-entrepreneur Maxine Tatlonghari (after a surprise lay-off), the brand quickly became a celebrity darling, lighting up the faces of famous beauties like Carrie Underwood, Jennifer Love Hewitt and Kim Kardashian. YouTube gurus such as Kandee Johnson, Makeup Geek and Emily Noel have also given the lighted mirrors their stamp of approval and major cosmetic brands are using the signature lighting at their biggest events. You can follow Maxine on Twitter @VanityGirl.
###