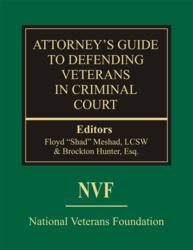 We have this special extra obligation to really reach out and try to make their lives different.
Justice Evelyn L. Stratton, Ohio Supreme Court
Los Angles, CA (PRWEB) November 29, 2011
The National Veterans Foundation has recognized the fact that it just may be that resolving many of the problems currently facing veterans returning from the wars in Afghanistan and Iraq will rest largely on the American criminal justice system. The statistics on veterans committing particular criminal acts haven't been collected and sorted as thoroughly as might be expected, but it is fair to say that acts, ranging from DUI to check fraud, spousal abuse, bank robbery and murder on the part of veterans is on the rise. And such criminal acts, committed by veterans with PTSD, TBI and other combat related issues are drastically on the increase.
With some of the finest minds in the legal, medical and mental health communities, the Attorneys Guide to Defending Veterans in Criminal Court, will be the first major publication compiled for attorneys dedicated to providing the very best defense for their clients, as well as fighting for continued and ongoing treatment if released or incarcerated. Among the experts contributing to the publication is Justice Evelyn Lundberg Stratton, Esq. of the Ohio Supreme Court -- an ardent supporter of the creation and maintenance of veteran's courts.
As Justice Stratton has said, "Some people say,'Why are we treating them [Vets] differently. They're criminals just like anybody else.' And my answer is most of them entered the system, went into the military with no criminal record. There's a lot of them that never had these issues until they came back from the war. They come out, they're damaged. They have all sorts of issues they didn't have before. We damaged them by sending them to defend us. We have this special extra obligation to really reach out and try to make their lives different."
Some of the other professionals writing for the Attorneys Guide to Defending Veterans in Criminal Court include:

The Honorable Robert Russell – Founder and presiding judge, Buffalo, N.Y. Veterans Court
General Brigadier General (Ret. U.S. Army) Stephen Xenakis, M.D. – considered by many to be the leading practical expert on PTSD that the US Army had working for them before his retirement into private practice,
Brockton D. Hunter, Esq. – criminal defense attorney from Minneapolis and co-editor of the Attorneys Guide,
Dr. Ronald Glasser, M.D., Dr. Chrisanne Gordon, M.D., and Dr. Peter Demitry, M.D. – leaders in TBI work, and
Markku Sario, Esq. – Defense attorney in the nationally-covered Jesse Bratcher murder trial. The table of contents for the publication strongly indicates the high level of coverage.
Defending veterans in the criminal court system is far from a cottage industry. The demand for qualified, courtroom-tested attorneys who can provide a stellar defense for veterans, going back as far as Korea, through Vietnam, the not-so-always "Cold War," the Desert Storm, Iraq, and Afghanistan continues to increase. And there is no indication that the demand will slow down. And the more that is understood about the realities of PTSD, TBI, substance abuse, and other issues related to combat, the stronger the need for professionals able to provide appropriate defense and argue effectively for treatment during the sentencing phase of trial.
This project was not initiated to create a "get out of jail card" for veterans on trial. The purpose was to create the best defense and back it up with efforts to provide ongoing post-trial treatment. A solid defense for veterans involved in criminal cases, that could utilize a combat-related impairment position, was one objective. The second was to provide a firm foundation for attorneys to argue effectively, if needed, for treatment during incarceration.
It was the decision of the NVF to fund the writing and publication of a tool that would serve defense attorneys in their efforts to provide the very best services to their veteran clients suffering from legitimate combat-related issues. It was clear from the beginning of the project that material used come from outstanding experts from the legal, medical and mental health fields. That objective has been accomplished.
Should there be an interest showcasing these outstanding efforts, both Shad Meshad (founder and president of the National Veterans Foundation) and Brock Hunter, co-editors of the Attorneys Guide to Defending Veterans in Criminal Court, are available for interviews, as are authors (with advanced notice and scheduling).
###