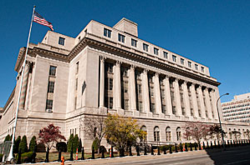 Bollards provide an extra level of security against attacks.
Surrey, BC (PRWEB) November 28, 2011
Last month, the Gene Snyder U.S. Courthouse and Custom House in Lexington, KY received a security upgrade. U.S. Marshals funded a project that involved installing bollards around the perimeter of the building property. Reliance Foundry security bollard covers were chosen for this project to make the concrete-filled steel pipes less industrial and more decorative in appearance.
Following the 1995 terrorist attack on the Oklahoma City federal building, President Clinton instituted a committee that developed new security guidelines for federal buildings. New federal buildings must be designed and constructed with a designated amount of standoff distance (distance between the building and public vehicle access), depending on the security level of the building.
The Gene Snyder Courthouse was constructed in 1931-32 and is listed on the National Register of Historical Significance. Like many older buildings, it doesn't allow for the required standoff distance as required by the new guidelines. In these cases, extra security initiatives, like security bollards, provide added layers of perimeter protection to keep vehicles from approaching buildings too closely.
Vehicle bombs are a very real threat to the safety of buildings and, more importantly, the people who work inside. The greater the distance between a vehicle bomb and a building, the less likely the explosion will impact the building.
5 years ago, a disgruntled litigator pulled a rented truck onto the U.S. Courthouse property and dumped 15 gallons of tar onto the courthouse steps. This incident, plus the heightened security needs led the U.S. Marshals to decide to fund the project, completed this month, in which 107 security bollards were installed into the concrete surrounding the courthouse.
The bollard covers chosen for this project were Reliance Foundry's model R-7593 ductile-iron bollard covers. Reliance Foundry Vice Brad Done, said that they are proud to be assisting the U.S. Marshals in protecting one of the United States' historical buildings in this way: "Sometimes builders opt to use smaller, less expensive cast iron bollards to provide security - or they weld decorative caps onto steel pipe; Reliance Foundry's two-piece, ductile-iron security bollard cover is the strongest, largest and most substantial competitive decorative option for this type of project."
Reliance will continue to partner with U.S. Marshals or any other agency that needs to provide strong perimeter protection combined with style.
About Reliance Foundry:
Reliance Foundry has been a family-owned business since 1927. Bollards are one of its main product lines, along with bollards, industrial wheels and investment castings. Reliance sources products globally and offers quick and convenient delivery in the United States and Canada from its Vancouver location.
###