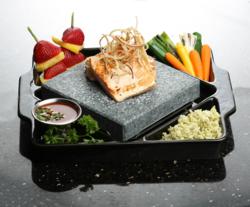 San Jose, CA (PRWEB) November 28, 2011
Rok Cooking just added Simply Fondue to its long list of customers who are offering their diners an amazing hot rock cooking experience. Jim Neiger, owner of two Simply Fondue franchises in Orange County, was introduced to hot rock cooking at Rok Bistro in Sunnyvale, CA. Jim was impressed with the overall presentation of the hot rock meals and how surprisingly delicious everything tasted coming off the rock. Coupled with the healthy aspects and ease of service, hot rock cooking seemed like the perfect addition to an already successful fondue restaurant.
Hot rock cooking and fondue are complementary styles of cooking that share communal and table-side dining elements. Both concepts are very social and interactive. But unlike fondue where diners dip a variety of items into a shared pot of melted cheese or chocolate, hot rock diners each get their own 700 degree volcanic rock and a whole portion of their chosen entree. Entrees are seared on both sides then delivered to the table. Diners complete the cooking process by cutting several bite-sized pieces and laying them around the outside of the rock where they will be ready to enjoy in a matter of seconds. Every bite is hot, healthy, and incredibly delicious...not to mention it's a whole lot of fun. And the last bite is just as hot as the first.
Simply Fondue in San Juan Capistrano is located across the street from the historic Mission. From fresh cuts of beef, chicken & seafood to a vast array of imported cheeses & chocolates, Simply Fondue offers the best of classical fondue with favorites that fit within anyone's budget. Experience the difference with over 100 designer martini's and now diners will get to experience the difference of natural and healthy cooking on hot volcanic rocks.
About Rok
Rok is the leader in the design, manufacture, and distribution of rock cooking products for restaurants and consumers. Their products are the highest quality and most affordable rock cooking products on the market. Rok is modern stone-age cooking at its very finest. For more information, visit http://www.rokcooking.com.
###