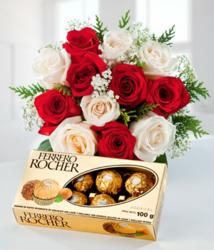 Cyber Monday is the biggest online shopping day of the year.
(PRWEB) November 27, 2011
Flower delivery company daFlores has announced site-wide Cyber Monday savings. This November 28, customers can take advantage of a 20 percent discount on all flower deliveries and gifts. Come Monday, savvy bargain-hunters and repeat customers alike will find a checkout discount code prominently displayed on the daFlores website.
"Cyber Monday is the biggest online shopping day of the year," explains Francisco Bustos, CEO and President of daFlores. "As online florists, we have one foot each in both the real and virtual worlds , and we're always looking for ways to provide the best value and quality."
The term "Cyber Monday" was first coined by the National Retail Federation in 2005, and refers to the Monday after Thanksgiving. While Black Friday is traditionally a day for eye-popping retail deals, consumers have embraced Cyber Monday as an alternative to crowds and long lines. Mr. Bustos points out that this can include flower delivery for occasions other than the holidays.
"So long as customers complete their orders by close of business Eastern time this Cyber Monday, they'll get the discounts," says Mr. Bustos. "They can pick up the discount code on our website and schedule their orders ahead. Our holiday flower collections have been in for a few weeks now, but we've also had customers schedule well into the New Year for birthdays and other occasions."
Those wishing to purchase discounted flowers for delivery this Cyber Monday should visit flowers.daflores.com (English) or daflores.com (Spanish) to find the discount code, which will be prominently displayed.
About daFlores International Flower Delivery Company
DaFlores.com, part of FloresaColombia, Inc., is a United States corporation and family-owned concern. The Miami, Florida-based company is known for innovation, including building a thriving Facebook community and offering online, live help. DaFlores works through a network of experienced, quality florists to present holiday flowers, gift baskets, and more.
###