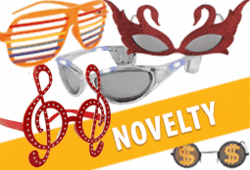 For retailers party glasses can attract more customers by offering something different
Salem, Oregon (PRWEB) November 28, 2011
The party and festival season is here. The best way to stand out in a party - family or office - is to be seen in a gorgeous outfit and designer party glasses. CTS Wholesale has launched a completely new collection of party sunglasses that will suit all sorts of moods and gatherings.
"Budgets are tight this year due to the economic turmoil all around us but we believe that people will be able to enjoy their celebration with our low cost range of designer party glasses" reported Kirk Bachelder, owner of CTS Wholesale Sunglasses.
These glasses are available in a wide range of funny and attractive themes. The party hosts can buy these wholesale and gift to the guests to reinforce the theme of the gathering, whether that is a 21st birthday party, Mardi Gras or "Just because" party. Christmas and New Year parties are definitely going to get much more lively with these hilarious glass designs.
Fashion retailers can also display these on their shelves to bring color and fun to their collection. This will draw the curious passer-byes and will help generate more sales. There are Jester party glasses, guitar designs, bats and cats as well as the proverbial middle finger designs for those wanting to go to the extreme. These can be sold easily at store locations, fairs, festivals, flee markets and many others.
"CTS Wholesale has been a leader with the online sales of sunglasses and we regularly launch new collections in different themes. This helps our dealer friends offer a wide collection in their stores to satisfy the most discerning customers", added Kirk.
CTS has put a lot of effort into a new website making it very easy to use. There is no pushy salesman, there is no time pressure and there is the whole wide selection to choose from. Convenient ordering, credit card payment and same day shipping make the online shopping experience pleasing and fun. The company also offers toll-free numbers in both USA and UK.
About CTS Wholesale LLC:
CTS Wholesale LLC. has been in the sunglass industry for over twenty plus years with lots of expertise. Being a direct importer they have focused in sunglasses expanding in to party glasses, lighters, hats to name a few items. You can reach them at 1-800-796-3486 or online http://www.ctswholesalesunglasses.com
###