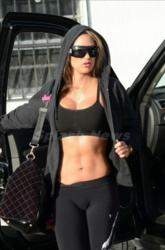 Super fitness model, best-selling author and key leader in the fitness industry Jennifer Nicole Lee was spotted most recently while on her way to train in her JNL Fusion method. Developed by JNL, she has hinted at opening worlds 1st JNL Fusion Gym.
Miami, Fl (PRWEB) November 29, 2011
Jennifer Nicole Lee has dabbled in the thought of opening up the world's first premiere JNL Fusion Training facility. This is partly due to the urgent demand of her worldwide based JNL Fusion Master trainers and clients. Not only will this future training compound be one of the world hottest destination spots, but it will also host the world's first JNL Clothing line boutique.
This dual set up of the JNL Fusion workout facility will make it a very enjoyable experience for JNL's clients to train, get one on one VIP treatment, and also stack up on the JNL Clothing lines hottest urban street gear and lifestyle wear.
When asked why she plans on moving forward on these major expansion plans for 2012, JNL stated simply "I believe in this method! JNL Fusion works because of its past and new current weight loss success stories to back up my method." She went on to explain the scientific term of "super spiking", where the athlete weaves in 30 second cardio blasts into their strength training circuits is what makes this method to efficient and effective.
Grand Master Trainer Jennifer Nicole Lee also is certifying others in her JNL Fusion method, helping both personal trainers and fitness enthusiasts alike accomplish their health business goals. Her next 2nd Annual JNL Fusion World Conference is being held at a private resort on Miami Beach, from Jan 13-16th with the applications open at http://www.JNLFusion.net.
For more info, visit http://www.JNLClothing.com and http://www.JNLFusion.com
###