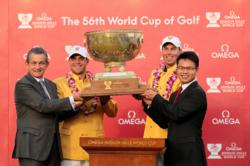 (PRWEB) November 28, 2011
On their tournament debut, Matt Kuchar and Gary Woodland timed their late surge to perfection shooting 67 in the final round foursomes to finish 24 under par – two shots clear of nearest rivals England and Germany tied in second place.
It's the country's first victory since Tiger Woods and David Duval in 2000 and their 24th win in the competition overall.
Crowds gathered around the 18th green of the Blackstone Course to watch as Mission Hills Group Chairman and CEO Dr Ken Chu and Omega President Stephen Urquhart, presented the Americans with the coveted World Cup trophy.
On becoming World Cup champions, USA's Matt Kuchar said: "I'm jacked up! This is exciting, World Cup Champions, American style!
"For Gary and I to put our name on the World Cup trophy, it's a real honour. As well as, to be able to walk through these halls and to see our pictures, this is just a fantastic resort. I think, what a cool place to be remembered here as World Cup Champions. It's a real honour."
Kuchar's partner Gary Woodland added: "Feels great. It was a very nice week, we were treated very nicely here and fortunately we played well.
"This is something that can never be taken away from us and it's an honour to be on that trophy with other great Americans."
Dr Ken Chu said: "Today is a fitting climax to what has been a thrilling tournament and on behalf of myself and the whole Mission Hills team I would like congratulate Matt and Gary on their fantastic World Cup victory.
"We are very proud to have hosted this illustrious tournament for the first time at Mission Hills Haikou and appreciate everyone's hard work in making this a truly memorable World Cup. I'd like to extend my gratitude to our sponsors, especially Omega, for their continued support and to all the players for being excellent ambassadors for the game and Hainan."
Finishing runners up in second place and tied on 22 under par were England and Germany. England's Justin Rose and Ian Poulter produced a scintillating final round of 63, including eight birdies and one eagle, to shoot them up the leader board. Germany's Martin Kaymer and Alex Cejka continued their consistent form finishing three under par for the day.
Elsewhere, Ireland who lead going into the final day couldn't convert the advantage and a final round of level par 72 saw them drop down to fourth alongside Australia and the Netherlands.
Today's captivating finale capped a successful week for 56th World Cup of Golf. The event saw close to 100,000 spectators visit the Mission Hills Resort in Haikou on China's Hainan Island which was hosting the tournament for the first time.
Hainan is entering a significant transitional stage in its history and the Chinese government is committed to developing the island into worldwide tourist destination, which bodes well for the future of the tournament. In the first quarter of 2011, Hainan welcomed 7.7million domestic and foreign tourists, an increase of 5.1% over the same period a year earlier. Tourism revenue stands at over 9.2billion RMB and this is likely to rise in coming months.
Dr Ken Chu added: "Mission Hills is committed to growing the game in China and supporting the government's development strategy for Hainan. The World Cup of Golf is a great way to showcase Hainan's potential as a thriving international tourist destination."
NOTES TO EDITORS
About Mission Hills China
Mission Hills China (http://www.missionhillschina.com), owner and operator of Mission Hills Shenzhen and Mission Hills Hainan, is the pioneer in China's fledgling hospitality, sports and leisure industry.
Mission Hills recognized as the leading golf brand in the world and synonymous with high-end, luxurious residences of rare and exquisite design, has created two world-class leisure and wellness resorts. It has held more than 100 international tournaments, including the 1995 World Cup of Golf and the Tiger Woods China Challenge in 2001. In 2007, Mission Hills began its role as host of an unprecedented 12 editions of the Omega Mission Hills World Cup.
Mission Hills Shenzhen
Stretching across the lush, rolling hills of southern China, Mission Hills Shenzhen is the country's premier golf club, and also the "World's Largest Golf Club" as accredited by the Guinness World Records. The property is home to 12 signature courses designed by Jack Nicklaus, Pete Dye, Greg Norman, Nick Faldo, Annika Sorenstam, Ernie Els, Jose Maria Olazabal, Vijay Singh, David Leadbetter, David Duval, Jumbo Ozaki and Zhang Lian Wei.
Mission Hills Shenzhen is a full-service, luxury resort, featuring four clubhouses, three award-winning spas, two five-star hotel, three golf academies (including one from world-renowned instructor Cindy Reid), Asia's largest tennis facility with 51 tennis courts and professional tennis academy, and numerous fine restaurants serving cuisine from around the world.
Mission Hills Hainan
Mission Hills Hainan lies in the volcanic region of exotic Hainan Island, China. The resort sets a new standard in leisure, recreation and wellness experiences. Nestled amid lush, green gardens, it caters to golf enthusiasts and comprises specially-designed golf courses, each incorporating native lava rock formations. Other state-of-the-art features include 518 elegantly designed guest rooms and suites, a three-story clubhouse, China's first Hank Haney Golf Academy, meeting facilities, 12 world-class restaurants, a fully-equipped sports and recreation center, Hainan's only aquatic theme park, therapeutic volcanic mineral springs, a spa oasis, and shopping arcade.
Mission Hills Hainan's Blackstone Course hosted the inaugural Mission Hills Star Trophy in October 2010, a ground-breaking celebrity pro-am golf tournament for Asia. It will also host the Omega Mission Hills World Cup in November 2011. A magnificent addition to Hainan's tropical island paradise, Mission Hills Hainan is poised to become the island's premier sanctuary, attracting visitors from around the globe.
Getting There: Mission Hills Shenzhen is a 45-minute drive from Hong Kong International Airport (HKG). Mission Hills Hainan is 15 minutes from Haikou Meilan International Airport (HAK). Flights from major cities throughout Asia -- including Beijing, Guangzhou, Hong Kong, Shanghai and Singapore -- to Haikou are available.
# # #