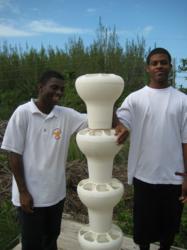 Bahamas Schools help increase their sustainability!
Port St Lucie, Florida (PRWEB) November 29, 2011
At "Every Child Counts", a Special Needs School in Marsh Harbour, Bahamas, Miss Pam's class who tend a vertical food growing Tower, was awarded 2nd Place at a recent Earth Day Science Competition.
Since early in the year, this school in Marsh Harbour has had a number of food growing initiatives, including the use of an aeroponic growing tower donated by FeedOurPlanet.Com Inc.
More recently, 3 people have donated hydroponic towers from the same company. But after Hurricane Irene, the old and new towers are having to be resurrected at ECC.
Meanwhile, a donor has given the first hydroponic tower system to Hope Town School on nearby 6 mile long Elbow Cay, where the students erected it a few days ago, and a 2nd system will be donated by FeedOurPlanet.Com Inc. shortly.
These new hydroponic vertical food systems can grow 38 plants in under 2 square feet. They are self-contained, and recycle both water and plant nutrients so there is no waste or pollution.
They present an ideal way of growing food where soil is nutrient-poor or where space is limited.
"Right now, the Bahamas and most Caribbean islands import most of their food. With this type of green technology, we can help build more local sustainability, and even jobs." …says Michie, President of FeedOurPlanet.Com Inc..
In the meantime, the classes will be eating everything they grow; including the broccoli. Yeuck!
###