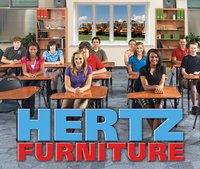 Ergonomic furniture, designed to reduce weariness and increase comfort, has been shown to increase learning productivity.
Mahwah, NJ (PRWEB) November 29, 2011
Saul Wagner, Hertz Furniture President, has been invited to appear on Lifetime Television's popular morning show, The Balancing Act. The episode, "What Defines a Well-Designed Classroom," airs in January and focuses on the impact that school furniture has on the learning environment.
Mr. Wagner, an expert on classroom design and educational ergonomics, will appear on the Parent Teacher Corner segment of The Balancing Act, along with John Musso, Executive Director of the Association of School Business Officials (ASBO). They will discuss the importance of accommodating the needs of all students and teachers, as well as exploring how a comfortable learning environment can encourage optimum behavior in students. For instance, ergonomic furniture, designed to reduce weariness and increase comfort, has been shown to increase learning productivity. Further, a classroom equipped with adaptable and flexible school furniture can play a big role in helping children with special needs in an inclusive classroom. A classroom equipped appropriately will not only help a child with special needs, but will also help the whole class, including students with attention issues. The proper classroom environment has even resulted in lower absenteeism and better classroom performance. The Teacher's Guide to ADHD by Reid and Johnson states that "Physical changes [in the classroom] can help children who need physical activity."
The Parent Teacher Corner portion of The Balancing Act addresses the issues plaguing public education in America today. The show's intent is to empower teachers, administrators, parents and community with the information they need to initiate positive change in all aspects of education. The Balancing Act airs nationally on Lifetime Television Monday through Friday at 7 am ET/PT.
After an in-studio discussion between Mr. Wagner and Mr. Musso, viewers will visit a school featuring innovative furniture from Hertz Furniture. "We strive to give schools the ability to inspire every student," explains Saul Wagner. "With 45 years of experience in supplying schools with what they need to teach our children, we understand the importance of classroom design and look forward to exposing a wider audience to these concepts. Ergonomic design includes the simple idea of giving children more room to move around, as well as more complex structural issues, particularly important in an inclusive classroom."
About Hertz Furniture:
For 45 years Hertz Furniture has supplied schools, religious institutions, businesses and government offices with top quality commercial furniture and superior customer service. Speedy Quotes, Quick Ship products, a wide selection of eco-friendly furniture, a free project planning and design service and the best warranties in the industry are just a few of the ways that Hertz Furniture provides added value to its customers. For additional information on Hertz Furniture and its extensive line of products, please visit http://www.HertzFurniture.com, speak to a furniture specialist at 800-526-4677, or send an email to ahoffmann(at)hertzfurniture.com.
###