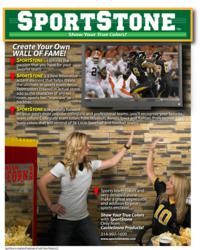 SportStone adds fun, uniqueness and the WOW factor to your sports enclave.
(PRWEB) November 30, 2011
SportStone is a new innovative stone veneer that helps create the ultimate in sports room décor. This cultured stone product from Castle Stone Products is created in team colors that add to the ambiance of a man-cave, sports bar or family game rooms. SportStone is regionally focused on the area's most popular collegiate and professional sports teams. Collegiate team colors from Missouri, Illinois, Iowa, & Kansas and professional team colors that will remind one of St. Louis baseball and football teams. Team colors, created & accented in shale stone or traditional thin brick, truly add to the character of your sports enclave. For making such a dramatic statement to your sports area, SportStone is also very cost-effective; 100 square feet can be had for around $500.
SportStone, like our other stone veneer products, is specifically formulated and hand-crafted to capture the look, feel and durability of natural stone while also being lightweight and easy to install. Castle Stone's Products require no structural footing and can be applied over any sound surface. A skilled handy-man or mason can complete the proper installation.
About CastleStoneProducts.com and SportStoneUSA.com
Castle Stone Products is a St. Louis, Mo area manufacturer of a variety of hand-made, highly detailed stone veneers, including stone products such as limestone, fieldstone and mountain ledge, among others. SportStone represents the company's effort to bring some 'fun' to the traditional realm of architectural stone products. Castle Stone Products is a family-owned company based in St. Louis, MO. For more information, visit our showroom M – F, 8am – 4pm (11680 Lackland, St. Louis, MO 63146) or by appointment. You can contact us at SportStoneUSA.com, CastleStoneProducts.com or by phone at 314.997.1600.
Show your True Colors with SportStone
###