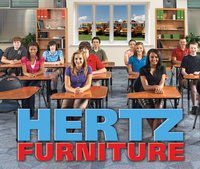 Hertz Furniture is pleased to offer our loyal customers a generous savings on Royal classroom furniture.
Mahwah, NJ (PRWEB) November 29, 2011
In the current volatile economic climate, Hertz Furniture, the leading classroom furniture supplier, is offering its valued customers an opportunity to save money on quality school furniture. Hertz Furniture announced today that it is launching a year-end sale on Royal Classroom Furniture. The sale runs until December 31, 2011.
To take advantage of this sale, visit the Hertz Furniture Year End Sale page to view the Royal Seating sale items, including quality chairs and desks at a savings of up to 34% off the regular price. These items come with a worry-free 25 year warranty.
Serving the educational community for four decades, Royal Seating manufactures school furniture that combines ergonomic comfort and pleasing aesthetics. The company offers a variety of long-lasting desk and seating options, including the Royal Classroom Chair with Painted Frame which has been designed with a waterfall seat edge and sturdy swaged legs for optimal support.
"Hertz Furniture is pleased to offer our loyal customers a generous savings on Royal classroom furniture," said the company's president Saul Wagner. "It's especially important to equip schools with seating options that are ergonomically designed. Comfortable seating is a simple step that contributes dramatically to the learning environment in the classroom."
About Hertz Furniture:
For 45 years Hertz Furniture has supplied schools, religious institutions, businesses and government offices with top quality commercial furniture and superior customer service. Speedy Quotes, Quick Ship products, a wide selection of eco-friendly furniture, a free project planning and design service and the best warranties in the industry are just a few of the ways that Hertz Furniture provides added value to its customers. For additional information on Hertz Furniture and its extensive line of products, please visit http://www.HertzFurniture.com, speak to a furniture specialist at 800-526-4677, or send an email to ahoffmann(at)hertzfurniture(dot)com
###