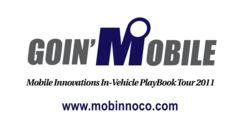 "But when we point out that a PlayBook costs $200 while a ruggedized laptop goes for $5,000 or more, they begin to get the picture."
Montreal, Quebec, Canada (PRWEB) November 28, 2011
Revving up the powerful engine of a police package Dodge Charger loaded with BlackBerry PlayBook and Mobile Police Assist (MPA) Software, Mobile Innovations President and founder Gary Bauer kicked off the Eastern leg of their cross-country "Goin' Mobile" demo tour in Montreal this morning. Riding shotgun with Bauer is Colin Bennett a representative of D&R Electronics, the company who up-fit the vehicle with mounts, lights, sirens and IT to complete Mobile Innovations' in-vehicle platform.
Covering over 2500 km and visiting a dozen police agencies between Montreal and Halifax, Bauer will demo his company's MPA in-vehicle PlayBook solution with emphasis on their new MPASmartHub feature, which connects in-vehicle driver's license scanner, keyboard, lights and sirens control, camera to the BlackBerry PlayBook. Capable of connecting up to 8 peripherals through multiple USB ports, the MPA for Playbook Platform turns any cruiser into a police enforcement centre on wheels for a fraction of the cost of conventional in-vehicle laptop up-fits.
"Just last week, we submitted a bid to up-fit 700 police cruisers with our solution." explains Bauer. "They called us back to tell us our bid was one tenth of the next bid, and to ask us if we'd made a mistake. This reaction is typical. But when we point out that a PlayBook costs $200 while a ruggedized laptop goes for $5,000 or more, they begin to get the picture."
While currently focused on law enforcement agencies, Mobile Innovations tour has garnered much attention from emergency services and utilities along the way.
"With our Goin' Mobile tour we hope to dispel any doubts about the game-changing nature of our MPA In-Vehicle platform, and that it really is not only better, but cheaper and faster than any other solution out there," said Bauer. "Not just for police, but for municipal, utility, EMS and fire departments as well."
Mobile Innovations is a privately held company dedicated to enhancing law enforcement with the most advanced mobile data products on the market. Based in Niagara Falls, Canada, Mobile Innovations also has operations in Toronto and works with over twenty agencies across Canada and in the United Kingdom. Mobile Innovations is a RIM Alliance partner with six years of service developing and deploying advanced mobile solutions for BlackBerryTM. As a world leader in mobile data for BlackBerry, we are proud to help law enforcement personnel work faster, better and safer by putting the sum total of police knowledge at their fingertips, where and when they need it most.
###